Why are so many CEO's from a finance background?
28/04/2016
This week, it was revealed that over half of Chief Executives in the UK's top firms come from a finance background. We got the insight of John Weston, head of ACCA UK, to see what was behind this trend.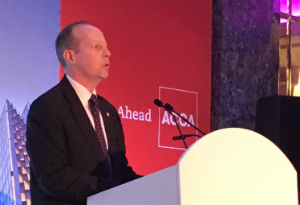 According to recruiter Robert Half's annual FTSE 100 CEO Tracker, released this week, 55% of chief executives in the UK's top firms currently come from a finance background.
With over half of bosses at the biggest players in the market holding a qualification in accounting, it is clear that understanding the numbers is still the best bet if you have your heart set on the top job.
So how are so many of these finance professionals making the jump from behind the spreadsheet all the way to the corner office?
In short, because being the stereotypical 'bean-counter' no longer cuts the mustard for most accountancy roles. The job has changed in recent years, bringing in more of the skills which are equally in demand for non-financial leadership roles. And eventually, the very biggest job of all – CEO.
One of the key roles of the modern finance professional is to understand, analyse and report back a holistic picture of organisational health. In other words, they now do far more than just look at the numbers.
They weigh up the many risks and opportunities – both internal and external – that face the business and use this information coupled with their expertise and experience to plot a sensible route to sustainable growth.
This puts them in a much more strategic role, more of a strategic adviser than the old-fashioned provider of data that some may still associate with accountancy.
At a recent event I attended, one of our ACCA members, a qualified accountant and CFO himself, said he was now viewed as a consultant to the business he was employed by. He won't mind me mentioning that he also joked about costing the business far less than bringing in an external consultant would!
If you consider the value that he brings in this role, is it any wonder that the people offering that kind of insight to the leadership so often end up making the leap into the leadership role themselves?
Of course, this new breed of accountants won't be saying a complete goodbye to statistics just yet. In order to fulfil this new role within the business, they still need to see, and understand, the numbers in the same way they always have. In fact, with almost every firm in the FTSE 100 operating to a strategy which requires global growth, the sheer scale on which accountants must now work to process information has grown beyond belief.
The global economy is underpinned by a complex infrastructure that allows it to function. Understanding how this infrastructure works, and therefore how a business might thrive in it, forms a big part of the job of an accountant.
This means robotics and automation are now playing a key role in helping accountants process the information they need to deliver the analysis required by the business. Some have suggested that this 'rise of the robots' could put finance jobs at risk, but the reality is that it simply allows accountants the breathing space they need to move into their new role within the business.
And as Robert Half's report proves, in many cases, to evolve from trusted adviser, business partner and key analyst to become a fully-fledged business leader and eventually, chief executive.