Why are employee-owned companies are thriving in the UK?
14/11/2019
The employee-owned (EO) model has proven to be successful, competitive, profitable and sustainable. But what exactly does this model entail?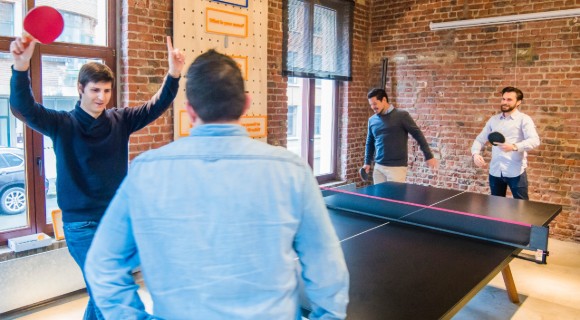 Employee ownership is the fastest growing form of business ownership in the UK. There are over 300 employee-owned businesses in the country with approximately 250,000 employee owners working in sectors such as manufacturing, community health services, and insurance.
Employee ownership is not the same as a cooperative, where a company's users and/or employees share ownership. An employee-owned business is owned solely by its employees. Employees can become business owners either directly, by personally owning shares in the company, or indirectly through an employee trust. When appropriately structured and managed, employee ownership can lead to strong profit levels for a business, which then shares the rewards of excellence with everyone who helped create them.
The UK government has promoted employee ownership because of its potential contribution to the economy and the benefits it offers for businesses. According to the Employee Ownership Association (EOA), the UK's top 50 employee-owned companies contributed over £20bn to the economy in 2018—more than the aerospace sector—and employed more than 150,000 people. The EOA also reports that the number of employee-owned companies is growing at a rate of more than 10% each year. The employee-owned business model adds diversity to the UK economy by providing an alternative way to achieve business success.
In 2014, the UK introduced two new tax relief options to encourage more businesses to adopt the employee ownership model. The first grants company owners full exemption from capital gains tax (CGT) if they sell a controlling interest to an employee trust, and the second allows for bonuses paid to employees of an employee trust-controlled company to be exempt from income tax, up to an annual limit of £3,600 per employee. But companies aren't choosing employee ownership merely for tax benefits; the model has numerous other benefits as well.
What benefits does employee-ownership offer?
Employee-owned companies present unique benefits in terms of driving profit and value in a direction that benefits employees and that, as a result, increases quality of service. Employee ownership allows all employees to have a significant and meaningful stake in a business. Their stake in the company enables them to have both a financial interest in the business (owning shares, for example) as well as a voice in how the company is run (employee engagement).
Because employees are also co-owners, they tend to be more entrepreneurial and committed to the company they work for, resulting in organisations that are more successful, competitive, profitable, and sustainable. Independent research by the EOA appears to back this theory, suggesting that a combination of shared ownership and employee participation leads to superior business performance.
For these and other reasons, an ever-increasing number of business owners nearing retirement are arranging for their employers to take over ownership of their business, and entrepreneurs who want to create new businesses are realizing the advantages that employee ownership can provide.
Employee shareholders
Generally, it is easier for a company that is limited by shares to set up employee ownership, and employee shareholders will receive certain tax advantages. To be an employee shareholder, an employee must own shares in their employer's company worth a minimum of £2,000 when they are obtained. An employee won't generally have to pay Income Tax or National Insurance on the first £2,000 of shares if received before December 1, 2016, but they won't be granted tax relief if they receive them after December 2016 or they or someone connected to them (a business partner, spouse, or family member) has 25 percent or more voting rights in the company.
Other types of businesses, such as charities or sole traders, might have to modify their legal structure to enable them to sell shares. Employees who hold shares in a business can do so through share schemes, and will likely pay lower taxes if the scheme is an approved one—a Share Incentive Plan, Save As You Earn (SAYE), Company Share Option Plan, or an Enterprise Management Incentive (EMI). Those offered shares outside of these schemes wouldn't generally offer the same tax advantages as approved plans.
When employee-owned shares are sold, Capital Gains Tax may or may not be paid, depending on when the employee shareholder agreement was executed. If the agreement was signed before March 17, 2016, Capital Gains Tax will apply to shares that were worth over £50,000 when they were received. For agreements signed after March 17, 2016, Capital Gains Tax is only paid on gains over £100,000 earned during an employee's lifetime. The "gain" is defined as the profit made when shares that have increased in value are sold.
Employee engagement
According to Edinburgh Napier University, 80 percent of the staff in employee-owned businesses would recommend them as places to work. Employee-owned businesses tend to have a positive business culture because they provide for employee engagement, meaning workers are given a say regarding how the business is run. Some ways to engage employees in this way might include:
Forming an employees' council or some other type of consultation group;
Defining the company's values and its relationship with employees in a document (such as a constitution);
Including employee directors on the company's board, giving them the same responsibilities as other directors;
Working with trade unions on matters such as pay and working conditions.
Three very different UK companies have adopted an employee-owned model, providing interesting results after several years.
Case Study: John Lewis Partnership
The John Lewis Partnership is the largest employee-owned business in the UK and also the parent company of two well-known retail brands: John Lewis & Partners (with 51 shops across the UK) and Waitrose & Partners (with 349 shops), which operate supermarkets, banking and financial services.
More than 100 years ago, John Spedan Lewis conducted a somewhat radical business experiment: he began to include his staff in decision-making related to how his business should be run. To do this, he established the principles for how the John Lewis Partnership should operate and created a written constitution to document the partners' rights and responsibilities as co-owners.
Spedan Lewis's vision for his business was both commercial (keeping pace with a highly-competitive industry) as well as democratic (giving every partner a say in the way their business should operate). The company is owned by a trust on behalf of all its employees, who are known as partners and who have a say in the running of the business and receive a share of the company's annual profits in addition to their regular salary.
The Partnership's first democratic council was set up in 1919, allowing the partners to share in the benefits of employee ownership by equally distributing profits. This approach, considered to be ahead of its time a century ago, continues to influence employee-owned businesses in the UK today. Today the John Lewis Partnership generates gross sales of over £11.7bn and employs a workforce of approximately 83,900 partners.
Archivist Judy Faraday joined the Partnership more than 40 years ago, starting as an A-level trainee at Brent Cross. She says of her role in the Partnership, "I would like to think that people think of our heritage services as a knowledge hub. It's the place where people come to learn, whether it's learning about the history of the Partnership, co-ownership or the business's design history. Without knowing where you've come from, it's very difficult to know where you're moving to, so our heritage is very important to the Partnership's wider strategy."
Case Study: Blackwell's
The academic bookshop chain Blackwell's credits the dream of employee-ownership with putting the company back in the black. After a decade of losing money, the company finally turned a profit in 2014 and is on the road to realizing its long-term ambition: becoming a John Lewis-style employee-owned business.
Toby Blackwell, whose great-grandfather founded Blackwell's in 1879, had long wanted to hand his 31 stores over to the staff, in part to secure the company's future and also to keep the business in the family's name. Although the recession and huge changes in the publishing world put his plan on the shelf—the US-based bookseller Borders collapsed in 2009, and between 2005 and 2014, 500 independent booksellers in the UK closed—several years ago Blackwell announced that legal documents were being drafted and a constitution of values was being drawn up. "We wouldn't be setting up the [legal] vehicles now if it wasn't going to happen in the next two to three years," he said in 2015.
Although the official handover is contingent on the business meeting certain financial milestones that have not yet been fully realised, hope is on the horizon. Blackwell's sales were up 17 percent last year due to its high-street and campus stores, a revamped website, and a shift away from exclusively selling highbrow reading material to a multi-channel strategy of material ranging from fiction, cookery, and pop culture.
The decision to stock more mainstream titles seems to have resonated well with consumers, and Blackwell's sales of general (as opposed to academic) books had grown 20 percent in the first five months of 2018. David Prescott, chief executive of Blackwell's book shops, says of the company's goal for employee-ownership, "It's our job to be in a financial position where we take the business from Toby [Blackwell]", he says. "We've been there before with a false dawn so this is not the time to make promises. This is a time to get our heads down and sell as many books as is humanly possible."
Case Study: West Highland Free Press
On October 27, 2009, the West Highland Free Press (WHFP) became the only employee-owned newspaper in the UK. The paper was founded in the Scottish Highlands in 1972 as a left-wing weekly newspaper with the singular objective of providing its immediate circulation area with "the service which a local paper is expected to provide."
Since becoming employee-owned a decade ago, the WHFP has maintained its independence and enjoyed a type of stability uncommon in today's volatile newspaper industry. According to a WHFP online post: "The sense of togetherness employee ownership brings has been invaluable to the business. We've done something unique in the newspaper industry and we've proved employee-ownership is not only scalable to smaller businesses, but a clear way forward for delivering local news."
The demise of local newspapers around the world is well documented, many floundering in the face of online competition or due to disappointing profits delivered to corporate shareholders. But Paul Wood, the owner and managing director of the WHFP, makes the following case for local newspapers and employee-ownership:
It shouldn't be all doom and gloom in the industry, there is a solution available that reconnects journalists with their local communities and offers a sustainable business model to secure the future of newspapers. It's called employee ownership and is an idea whose time has very much come, judging by the clarion calls from politicians like Nick Clegg to create, "a John Lewis economy". This innovative business model puts employees at the heart of their companies, by making them shareholders in their own firm.
According to Wood, employee-ownership incentivises workers to do their best since they share in the rewards of their company's success, whatever industry they work in. "I firmly believe it has relevance and application to newspapers of all sizes because aligning individual success with company success delivers a highly motivated workforce," he said. "Making journalists shareholders in their own paper sounds radical, but in fact it provides them with stability and motivation—at a time of difficulty for the industry."
But being an owner does not every employee a manager make. Like any company, one owned by employees needs a professional management team that is supported by staff who are committed to the company's success for one vital reason: they have a stake in it.