What responsibility do influencers have?
28/11/2019
This year, there will be an estimated 4.4 million Instagram posts using popular hashtags to denote advertising or promotion. Despite not existing just ten years ago, the "influencer" industry is growing at an alarming rate, and is changing the way we engage with brands online, what we perceive as "authentic" and the way we live.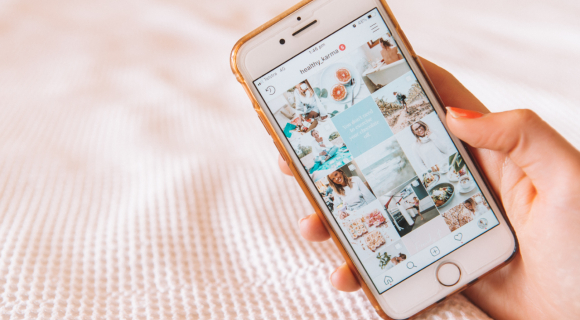 A young twenty-something-year-old with glossy, bouncing, perfectly-balayaged hair is sitting on a bed, holding a bottle of shampoo. Her neutral outfit is effortlessly stylish and perfectly blends in with the tones of the backdrop. The picture could grace any fashion magazine. Underneath the image is a relatable caption about how annoying it is when your hair gets super greasy, a couple of emojis and the hashtag #ad.
Welcome to the world of influencers, where one can grow a large social media following on platforms such as Instagram and make a living from promoting products and services to their audience. It's been predicted by TechJury that the influencer-marketing industry could be worth between $5bn–$10bn by 2020. Between 2016 and 2019, influencer marketing on Instagram has quadrupled. This year, there will be an estimated 4.4 million Instagram posts using popular hashtags to denote advertising or promotion. Despite not existing just ten years ago, the influencer industry is growing at a shocking rate, and is changing the way we engage with brands online—as well as what we perceive as "authentic".

What is an influencer?
What actually constitutes an "influencer" is hard to pin down; there are different brackets within the category. A "micro-influencer" is described by Influencity as having between 5,000 and 25,000 followers and a 4% engagement rate—a rate that can be calculated in several ways, but generally refers to the number of people who interact with a post (for example by liking, commenting, sharing it with a friend or exploring the account further) compared to the number of people who see the post.
In general, the more followers you have, the lower the engagement rate you need to be considered an influencer. "Macro-influencers" have between one and seven million followers and an engagement rate of 1.6%, while "celebrity" influencers include anyone with over seven million followers. The numbers are important, but more so is the community of followers that enjoy engaging with an influencer's content.
How do influencers make money?
Whether you've got ten thousand or ten million followers, what matters is what you do with this audience. Savvy influencers monetise their audience, which can prove extremely lucrative.
The most common way to do this is through sponsored posts, where a brand will pay an influencer to promote their product or service on Instagram, a blog, or any other social-media platform. There will be an agreed fee paid for a set amount of content posted by the influencer, with the assumption that a percentage of their followers will engage with the brand because of the influencer's post. In 2018, 66% of influencers used sponsored social media posts to generate revenue.
There are other ways for influencers to generate income. Affiliate links (or referral links) are when an influencer gets financially rewarded when someone clicks on their specific link and makes a purchase. They may receive a flat fee per purchase, or a small percentage of the total order. This may be organised directly with a brand, or through a company such as rewardStyle, which facilitates influencers' monetisation of their posts.
Another way that influencers can earn money from their influence is through the use of personalised discount codes. This is particularly rife in the beauty community, where make-up gurus such as James Charles have built entire empires with the catchphrase: "Use code JAMES for 10% off". Customers make savings on their purchases, brands get more exposure, which leads to more orders, and influencers generate revenue: everyone wins.
Why do companies love influencer marketing?
Advertisers are always looking for new ways to reach their target audience. Because over a quarter of Instagram users fit into the demographic of 25-34 year olds, industries that target young people can make use of the platform. Traditional marketing doesn't have the same impact as before, especially with younger age groups. Marketers have to focus on their audiences' interests, and at the moment that seems to be Instagram. Social-media platforms are also great in terms of tracking; they make it much easier for marketers to see exactly how many people they're reaching and measure their success.
Interestingly, people are ten times more likely to be influenced by a non-celebrity blogger than a celebrity. When consumers see a celebrity pushing the latest perfume on a glossy magazine spread, they often know they've been paid a lot of money to endorse it. However, if a "normal person" they follow takes a picture of the same perfume and talks about why they like it, then it comes across as a lot more genuine—even when it isn't. Companies know that spreading their messages through influencers means they can select exactly the type of audience they want to target and provide a kind of marketing that is more personalised than if it was emblazoned on a billboard.
Influencer scams
Influencers have been at the centre of many controversies, and perhaps the most famous example is the Fyre Festival. Documentaries produced by Netflix and Hulu have tried to explain the circumstances leading up to what was meant to be a premium festival taking place on April 28-30 and May 5-7, 2017, on the Bahamian island of Great Exuma. According to DJ/producer Jillionare, "Fyre was basically like Instagram coming to life."
A launch video featuring supermodels including Bella Hadid and Kendall Jenner (who was reportedly paid $250,000 for a now-deleted Instagram post about the event) convinced thousands of people to pay anywhere between $500 and $12,000 to attend the disastrous event. With the organiser Billy McFarland now in prison for fraud, it begs the question: how liable are influencers for the products, services and events they promote?
Rohan Midha, managing director of the PMYB influencer agency, told the BBC that although the Fyre Festival was a disaster, "it just shows how powerful influencers can be". Although the sheer size of the influence campaign was "unusual", the results are indicative of the success that influencers can bring. He says: "Influencers can reproduce the largest return on investment... that's across the board." Werner Geyser, founder of the Influencer Marketing Hub, agreed, saying that the industry learned a lot from the whole debacle: "It's all publicity at the end of the day. I think brand managers and influencers will be more cautious, and that can only be a good thing."
What regulations must influencers adhere to?
There has been a general movement towards influencers being more transparent about how they are involved with brands. This is usually done using hashtags, such as #ad, #spon, #sponsored and #gifted among others. Influencers started to become more transparent about their sponsorships in 2014, when videos advertising Oreos were banned by the Advertising Standards Authority. Complaints were made against Mondelez (Oreo's parent company) for not making it clear that the video ads were actually marketing messages. Prominent YouTubers such as Phil Lester and Dan Howell (on the channel AmazingPhil), Emma Blackery and PJ Ligouri (KickThePJ) were involved as they took part in an "Oreo Lick Race" in the videos they created for the brand. This led to the first instances of #ad being used to highlight content that has been paid for.
In 2017, the Federal Trade Commission (FTC) in the US warned celebrities and influencers that they must be clear about when a post has been paid for—but many influencers still fail to follow these guidelines. In September 2017, the Advertising Standards Agency released a guide for influencers in collaboration with the Competition and Markets Authority, which details what exactly is considered to be an ad, how to disclose that a post is an advert, what the CMAs requirements are and what happens if a complaint is made.
It is illegal for brands or individuals to post sponsored content without disclosing it, as detailed in the Consumer Rights Act. This legislation was originally created for traditional forms of advertising, but is now being applied to social media too. But even on monochrome Instagram feeds, the difference between paid for and generic content is far from black and white. Grey areas exist—if you were gifted a pair of earrings that you wear in every post, do you need to repeatedly reference it? If a brand has paid you for some content in the past, does that mean every time you mention that brand—even under your own volition—it still counts as an ad?
Influencers and mental health
According to a survey by the Royal Society for Public Health, "Instagram is rated as the worst social-media platform when it comes to its impact on young people's mental health." It isn't difficult to see why. Influencers present a polished version of their lives through their profiles. Even if they strive to be authentic and "real", it doesn't change the fact that they present a highly-curated lifestyle that can make their followers feel inadequate. For users of the platform, particularly younger teens, comparing oneself to others can be damaging. Instagram itself is experimenting with ways to tackle this, recently testing a feature that removes the amount of likes a post gets for everyone except the account holder. Instagram commented: "We want your followers to focus on what you share, not how many likes your posts get." It is unclear whether this feature will be made permanent.
Instagram fame can also take a toll on people's mental health. Many influencers experience pressure to be perfect and successful. The rise of photo-editing apps that can alter body types beyond recognition can lead to feelings of inadequacy. Behind the scenes, tasks that would usually require a whole team of people (hair, make-up, photography, location scouting, photo editing, social media management, accounting, business development) are performed by just one person. Plus, exposing so much of oneself online can mean that influencers are subject to a constant stream of hate comments. It isn't shocking that these pressures can have fatal consequences.
The tragic deaths of ex-Love Island stars Sophie Gradon and Mike Thalassitis have prompted a conversation around social media fame and its impact on mental health. Stars of the hit ITV2 reality show found themselves propelled to influencer status very quickly, without knowing how to manage it. As a result, ITV is being increasingly mindful of what is included in the show (for example, this year there has been a notable absence of intimate scenes) and is offering more support to the "Islanders" through therapy sessions both during filming and after the show has ended.
As a response to the ongoing conversation about Instagram and mental health, there has been a recent push towards authenticity, with influencers leading the way. On her blog, Maria J (@mariajblogs) says: "There was a point where everything was so edited only the best moments would make it onto the 'gram, but with this emerging caption culture it's almost as if we've come out the other side. [...] Everyone needs to know they're not alone when they do something stupid or that no one's life is as perfect as the visual grid suggests." It's a start, but it's clear that there is still a long way to go.
The influencer industry is highly fragmented. Any support networks in place are either communities of influencers helping each other, or management companies who may put making profit in front of protecting the mental health of both the influencers they represent and their audiences. When in other sectors there has been a huge drive towards reforming mental health and wellbeing at work, it's still difficult to imagine how the social media industry could do the same. Without HR departments, scheduled working hours, regulation or sick pay, most influencers have none of the protection afforded to most in the workplace. When the aim is to present an image of yourself on behalf of a brand that an audience will want to emulate, is there ever a way to influence ethically and cause absolutely no harm to the millions of people who could potentially see your post?
Time for regulation?
Instagram influencers have exploded in recent years, and show no signs of stopping. A whole industry has grown around it, including magazines, management companies, agents and awards. Instagram has also started to permeate into everyday life—for instance, every time someone describes a pair or shoes, a cute cafe or a holiday destination as "instagrammable".
Despite its problems, there are many positive elements to this too, as can be seen in the many communities that have been founded on Instagram and around influencers. There are few platforms where women have been empowered to succeed to the extent that they have on Instagram. For every post by Kim Kardashian promoting appetite suppressant lollipops to her 143 million followers, there is the equal reaction by activist Jameela Jamil.
Exactly how the platform will grow and progress in the coming years is almost as hard to predict as Instagram's feed algorithm. All influencers and users can do in the meantime is wait—and maybe scroll through their feeds while they're at it.