The rise of the trillion-dollar companies
15/05/2019
With Amazon and Apple crossing the trillion-dollar mark last year, are tech companies getting too big?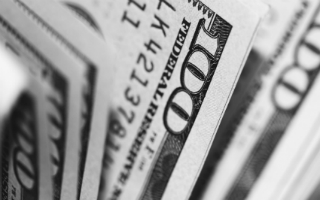 Apple
It was 35 years ago on January 24, 1984, that Steve Jobs showed the world the first Macintosh computer from Apple. Looking back on the black-and-white monitor, 8HMz processor (CPU) and 128K memory (RAM), it's hard to appreciate the innovation within its design. It becomes clearer when you consider the introduction of a user-friendly, graphics-led interface and mouse—both of which had been developed for Apple's previous (and prohibitively expensive) LISA computer.
The company was founded in 1976 by Jobs, Steve Wozniak and Ronald Wayne, to sell Wozniak's Apple 1 personal computer. This initial project attracted the backing of millionaire investor Mike Markkula. By 1985 all three founders had left the business and Markkula had taken on the role of CEO. Twelve years later, struggling in the face of cheaper competition from Microsoft and generic PCs, Apple brought Steve Jobs back into the fold by acquiring his new company NeXT. Under Jobs, the company opened retail stores and launched the iPhone and iTunes.
Markkula's guiding hand in the early days undoubtedly helped the company but, without Jobs' return, Apple wouldn't have grown into a trillion-dollar business. We should also remember it was a $150-million investment from Microsoft's Bill Gates in 2007 that enabled this turnaround to happen. Since Jobs' death seven years ago, commentators have noted a fall in innovative product launches. The Apple Watch has been the only notable new release under current CEO Tim Cooke. On a positive note, under his leadership the company has been working to improve its public image and reputation, with more openness and engagement with charities and good causes.
Apple was the first company to reach a trillion dollars in market capitalisation, in August 2018, but its value has since fallen following disappointing fourth-quarter results.
Amazon
Jeff Bezos founded Amazon as an online bookstore in July 1994 with an initial investment of $250,000 from his parents. Within a month, he was generating $20,000 in sales per week and shipping books to more than 40 countries. The secret of his success wasn't his knowledge of the book trade but the use of the technology and data to maximise the online retail environment. In 1997 Amazon floated on NASDAQ, and one year later it began to diversify online sales beyond books. Over the next two years it also acquired, or bought a significant stake in, 22 companies, including movie database IMDb and Bookpages.co.uk, which became Amazon UK.
In 2000, the company launched Marketplace, which enables third parties to sell goods on Amazon's site. The idea of opening up your company site to other retailers raised eyebrows, but Amazon has benefited from commission on every sale. For their part, smaller companies gain exposure to a huge number of potential customers, albeit in a highly competitive environment.
Not content with this online sale of goods, the company expanded into a number of other areas. This included web services such as online data storage
(Amazon S3) and Amazon Mechanical Turk, which provides access to a human workforce for completion of jobs known as Human Intelligence Tasks (HITs). Amazon has also developed products such as the Kindle e-book reader, the Fire phone and tablet, and the Echo (with Alexa voice service). A subscription package offering speedy delivery of goods was launched in 2005, and in 2011 access to streaming videos and TV were added to this 'Prime' deal. Amazon Studios (a subsidiary company) produces original film and TV content.
Bezos' policies ensured that Amazon didn't make a quarterly profit until 2001; nor has it paid out a dividend since going public. Most of the company's revenue comes from online sale of goods, but it is Amazon Web Services that generates the lion's share of the profit. In September 2018, it became the second trillion-dollar company by market value. Since then, like Apple, this value has fallen.
Amazon may pride itself on customer service, but its treatment of employees has sometimes hit the headlines for the wrong reasons. In November 2018, however, the company pledged to pay a minimum of $15 an hour to US and UK staff.
The future trillion-dollar companies
Alphabet
Alphabet was established in October 2015 as part of a corporate restructure of the technology company Google. The company said that this was to allow Google to focus on internet-related services, products and software, and to give other businesses in the group more scope to develop. Google currently dominates the market for operating system (OS) software with Android.
Alphabet is best described as the parent company of a conglomerate. Google remains the new company's leading subsidiary, with Sundar Pichai taking over from Larry Page as CEO. Page became CEO of Alphabet and fellow Google founder Sergey Brin became president. Alphabet has acquired more than 200 businesses spanning a broad range of industries including healthcare, technology development and cybersecurity. In healthcare, Verily (previously called Google Life Sciences) develops tech-driven solutions and Calico is a biotech company engaged in research and development. Other businesses include CapitalG, a venture-capital fund, and Waymo, which develops self-driving technology.
Before the restructure, the company had two classes of share: Class A (one vote per share) and Class B (ten votes per share and only available to directors). These are listed under the ticker symbol GOOGL. In April 2014, it issued Class C shares (worth slightly less) with no voting rights—under ticker symbol GOOG. This means Page and Brin can retain voting control of the company despite no longer owning a majority of the shares.
The company has faced criticism for lack of transparency and its handling of sexual harassment. Commentators have questioned the leadership style of Larry Page, who faces little in the way of accountability to shareholders.
Microsoft
Microsoft was founded on April 4, 1975, by Bill Gates and Paul Allen. They capitalised on a chance to develop software (known as an interpreter) to allow the BASIC programming language to work on the newly launched Altair 8800 computer. The computer had been produced by Micro Instrumentation and Telemetry Systems (MITS) and the original BASIC language by John G Kemeny and Thomas E Kurtz. In 1980, the company produced a version of an operating system Unix called Xenix. That same year, IBM computers contracted the company to provide a version of another operating system, CP/M, for their IBM PC. Microsoft purchased an existing version called 86-DOS from Seattle Computer Products, branded it MS-DOS, provided it to IBM and retained the copyright.
In 1985, the company began developing an operating system with IBM called OS/2. It also released Microsoft Windows, a version of MS-DOS with graphical display. The first Microsoft Office suite of applications was launched in 1990 along with Windows 3. Three years later Microsoft released Windows NT, which was based on the OS/2 code it had developed with IBM, causing friction between the two companies.
Microsoft went on to release more than a dozen version of Windows, ending in 2015 with Windows 10. Since that time, updates have been made available to download. It continues to update its Windows Server software for networks. In 2010, Microsoft replaced their previous mobile operating system for mobile phones, Windows Mobile, with Windows Phone OS, but announced in 2017 that it would no longer be developing new features. Windows is still the market-leading OS software for PCs (IBM PC-compatible computers), but with the rise of mobile phones and tablets, the overall OS market is now dominated by Alphabet's Android.
Allen resigned from Microsoft in 1983, but retained his position on the board until 2000. Steve Ballmer replaced Gates as CEO in 2000. In 2012, Microsoft made its first foray into hardware with the Surface, which has gained in popularity with subsequent editions, and acquired Nokia's phone division, which proved to be a costly mistake. The following year, it launched the Xbox One games console.
Since Satya Nadella took over as CEO in 2014, the focus has shifted to cloud computing, which has increased the market value of the company to the point that it overtook Apple towards the end of 2018. Microsoft has been involved in a series of controversies about anti-competitive practice. These include the 2001 anti-trust case in the US about the bundling of its web browser Internet Explorer with Windows and the ruling by the EU that the company must offer both a version of Windows without Windows Media Player.
The race continues
Since hitting a trillion dollars, Apple and Amazon have both seen their value drop. At the end of January 2019, Microsoft nudged ahead to lead the four with a value of $794.41 billion. As for the 'best of the rest', Berkshire Hathaway—the conglomerate led by Warren Buffet—at $495.54 billion and Facebook at $423.80 billion, are way short of the target. The next trillion-dollar company is undoubtedly going to be one of the top four. Most commentators favour Amazon to retake the crown, but aren't ruling out Microsoft as a contender.
'Too big to fail' is generally applied to financial institutions that are so large that allowing them to collapse would cause great damage to the economy. This idea first came to wider attention with the US Federal Deposit Insurance Corporation's bailout of the Continental Illinois bank in 1984. In contrast, Lehman Brothers investment bank was left to fail in 2008, but then the US Federal Reserve stepped in to rescue Bear Sterns and AIG. Some economists argue that in a well-regulated environment such bailouts are acceptable. Others feel that companies should be broken up before they get too big.
Although not banks, a dramatic collapse of any of the top four companies would have consequences for investors, businesses and the general public. An end to those services that store data and facilitate business transactions would have the most immediate impact. As conglomerates, the collapse of Amazon or Alphabet would also affect all of their subsidiaries.
Successful tech companies do fail. Nokia dominated the mobile-phone market in 2007, but six years later its market value had fallen by 90%. It was a spectacular decline, but it didn't happen overnight. Apple has suffered a loss in market capitalisation of about $450 billion dollars in the months since it became a trillion-dollar company. Few firms could take such a hit, yet it's far from on the brink. Any of the top four could see a fall in fortune, but not at a pace that leaves customers in the lurch with no time to find other suppliers. In fact, it's likely to be consumer choices that will drive the fortunes of these companies in the future.