The female venture capitalists have arrived: attending Hambro Perks' event for female investors
23/04/2018
When discussing the world of investment and venture capital, finance commentators have often asked: "where are the female investors?". While men have traditionally occupied the top investor spots (and corresponding places on the board), women have been absent – or at least invisible.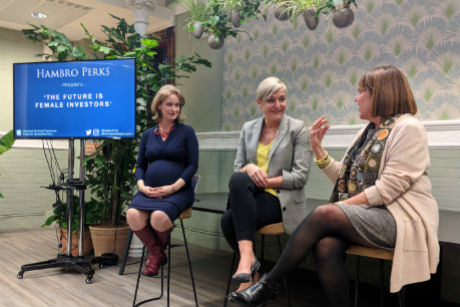 A recent event, organised by venture firm Hambro Perks, highlighted the lack of women investing in young businesses and discussed the ways in which they can be enabled and empowered to do so. Investing would put them on the boards of businesses, leading to vital female representation in key business decisions. Alternatively, it's possible to invest but not be on the board, making a difference via shareholder meetings.
"Only one in ten decision makers at UK venture capital firms are female", said Kate Burns, CEO of Media Tech at Hambro Perks, and former UK Managing Director of Google. "About half of all of the investment teams have no women in them at all. Almost two million investment-minded women want to invest in 2018, but are put off by the underlying inequality that exists."
Maike Currie further summed up this discouraging picture: in an FT column earlier this year, she lamented that in a 65-chapter book on investment, only one contributor out of 67 was a woman.
It's difficult to understand this lack of female investors – or at least the lack of visible ones – without taking into account the interplay between various industries. Hearing from women from financial services, science and technology, as well as a number of female founders and CEOs, this is exactly what The Future Is Female Investors sought to do.
"It was absolutely lovely to see the power of women when they come together", said Beth Hurst, co-organiser of the event. "We invited entrepreneurs, founders, investors and future game-changers, so it was great to see so many successful women all in one room."
Melody Lang of Edvinca hosted the first panel, speaking with Pip Jamieson, founder and CEO of The Dots. Also on the first panel were Emily Forbes, founder and CEO of Seenit, and Devika Wood, the Co-founder and Chief Care Officer of Vida. As women with first-hand experience of taking their ideas from the earliest stages through to successful businesses, each had a unique perspective on the investment process – and the value of having women on their boards.
Some of their accounts were infuriating – Wood recalled being told to "shut up and look pretty, that's what you do best" by a male shareholder. Jamieson spoke of being sat in meetings with potential male investors who "literally just directed questions" to her male CO. When raising capital for Seenit, Forbes was told to "have a strong male next to me in the room".
Forbes summed up just how unhelpful comments like this are. "It doesn't say, male and female aside, these are the skill-sets that are missing; here are your strengths, here are your weaknesses, and these are the rules and responsibilities you should look for in somebody else. That is constructive. I can then go and think about that then go and talk to people."
Such experiences offer one key reason why women feel discouraged from sitting on boards that are male dominated: there is a lack of respect. The Dots, Vida and Seenit all came into being within the last few years, and all have been massively successful. Yet their founders were not taken seriously in their initial rounds of pitching.
However, the three founders on the panel were quick to stress the advantages that female decision makers have. Speaking about the men who patronised her in board meetings, Jamieson said: "The advantage of being a woman is that straight away I know that they are just not a good person – an insight that one of my male counterparts wouldn't know".
Statistics show that women-led businesses are hugely successful, frequently outperforming those led by men. Yet for women on both sides of the equation – potential investors and potential founders – the process is difficult and hostile. This can only change with established women speaking out about their careers. Forbes said: "The more women who stand up and talk about how they got to where they are, how they have overcome hurdles and challenges, the more it humanises what a CEO is, and what a CEO can be. Step-by-step we are breaking down that stereotype".
Visibility and mentorship are two incredibly important factors for young women looking to start their own businesses, as well as for women looking to invest in those businesses. Wood said: "nobody taught me how to stand up for myself and how to be assertive – how to put things in place to deal with these situations and scenarios. I just had to learn on the job.
"I don't care who invests in me if I'm honest, it can be a man or a woman – I just care that they take me seriously."
The individual experiences of three female founders highlighted that women can bring value to boards that goes far beyond financial: this was only bolstered by the discussion between Kate Burns, Wenda Harris Millard and Anya Navidski. Harris Millard is the vice chairman of MediaLink, with previous credentials at Martha Stewart Living and Yahoo, While Navidski is the founder and CEO of Voulez Capital, which works to invest in women-led businesses, and also an advisor at JP Morgan.
It's undoubtable that conversations about topics such as this would not have emerged so frankly were it not for the #MeToo movement; every woman who spoke did so with awareness of how difficult a battle it can be to be a woman who is successful in her field. "This is a universal problem", said Harris Millard. "It crosses every boarder imaginable. The degrees of difference are absolutely real, depending on where in the world you are living, but to me, the key differentiator for progress is awareness of what the issues are".
One tack is certainly to stop accepting male-dominated boards as the norm: to speak about the lack of female representations, and the invisibility of female investors, and to continue to speak about it until it changes – as is currently happening in the #MeToo conversation. For as long as conversations are happening, change is facilitated.
Reflecting on her professional life, Harris Millard said: "to be a feminist means nothing more than to believe in equality – how could you not say you're a feminist? But we could not. It was a career-eliminating statement if ever there was one".
The panel also touched on the fiscal side of #MeToo: the gender pay gap. "If you speak to women leaving the City for other jobs, a lot of the time, it's over pay," said Navidski. "Maybe the salaries are the same, but by the time you get to the bonus round, that's when it begins to differ. So why would you put up with 18 hour days for 15, 20 years, and sacrifice other elements of your life, and not get paid enough for it?"
At first, there's a disheartening element to this. But from unfortunate realities such as the gender pay gap, women have rallied. Navidski's own capital investment company focuses on women-led businesses, The Dots employs a staff which is 62% female, and the journey from business idea through pitching rounds to the boardroom need not be the male-dominated process it once was.
Women's skill at holding it together has stood the test of time. "We're really good at mitigating and balancing risk", said Navidski. "The media goes out there and tells people that entrepreneurship is about risk-taking and investing is about risk-taking. But no; successful entrepreneurship is about management of that risk, and women are really good at it. Successful entrepreneurs do not jump off a cliff without a parachute. They will check it three times and put a safety net in place before they do so."
All at once, the event celebrated women who had succeeded in business, challenged hostile boardrooms and the exclusion of female investors, and proposed ways in which this could change. But the main takeaway was to continue to celebrate women's success: to provide mentorship and share skills.
Reflecting on the event, Hurst said: "We need to continue being open and frank when discussing the issues that women face, particularly in the world of investment." Living in a world where business and tech go hand-in-hand makes this process much easier. For women looking to keep the conversation going, collate professional expertise from a variety of fields, and provide a digital group of support, a WhatsApp group was proposed. In a testimony to the tenacity of the women in attendance, the group is now made up of 24 entrepreneurs, creatives, managers and founders. With the help of most people in attendance, Seenit curated and created a film of the event.
Dominic Perks, co-founder of Hambro Perks, said of the event: "it was an incredible showcase for female talent, and a real eye-opener for me as to some of the problems that women face trying to build businesses and get funding."
For women entering the ever-intersecting worlds of business and finance – either as founders and entrepreneurs, or as future game-changers in financial services – the future looks much brighter than it did. They now have mentors in the likes of Kate Burns, Wenda Harris Millard and Anya Navidski, as well as Pip Jamieson, Devika Wood and Emily Forbes. The event addressed the problems in the sector, particularly in investment. But crucially, it also provided the solutions.