The business of renting
04/12/2018
With the Private Rental Sector (PRS) in the UK more dominant than ever, some landlords are profiting at the expense of their tenants' rights. How can the existing loopholes be closed—and how can more be prevented from opening?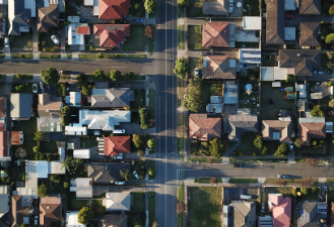 Home is a concept that, for most people, is loaded with meaning: safety, security, stability. It's incredibly important to most people that they have a stable place to live. In 1988, the Housing Act was introduced, changing all of this. With it came the assured shorthold tenancy, a form of occupation that permitted tenants to stay for just a short time. Buy-to-let was born and with it came more landlords, able to use people's need for a home as a steady form of income.
Thirty years later, there are now more renters in London than there are homeowners. Londoners living in the central boroughs part with a median of £2,150+ per month, in exchange for their safety, security and stability. The average wage in London is around £30,000. This means that most people living in the city and earning on or below the average wage cannot afford to rent as a single household.
This has given rise to housing in multiple occupation, or HMO housing. The phenomenon has seen the standardisation of shared properties, many of which were built to house families from a single household. A HMO is any property occupied by three or more tenants who aren't from the same household, in which the toilet, bathroom or kitchen facilities are shared. A large HMO is any property occupied by at least five tenants, with shared kitchen and bathroom facilities. The latter type of HMO must be licensed.
Renting a room within a HMO has become the reality for a lot of single people, particularly in large cities such as London. Without considering the nuances of renting, it seems like a viable solution to the UK's housing problem: tenants get an affordable deal, and more people can occupy a single property in space-starved cities. For landlords, HMOs are highly profitable—almost twice as profitable, in fact, as a traditional, one-household property.
HMOs should also technically mean better regulation of properties, and as a result better circumstances for those who live in them. Licensed HMOs should be the right size for the number of tenants, as well as equipped with the right facilities. There must be a gas-safety certificate updated yearly, and smoke alarms throughout the property. The house manager (either an agent or the landlord) must be free of criminal convictions and landlord offences.
While in theory, this should ensure the appropriate regulation of HMO rental properties—and fulfilment of the conditions that turn them into safe, secure homes—many landlords simply don't apply for a HMO licence.
Operating an unlicensed HMO could mean that landlords earn more money from the property by renting out more rooms than a licence would permit. A landlord may avoid seeking a HMO license if they know the property wouldn't meet the standards, or if they themselves wouldn't be accepted as a licence holder.
"We felt in a really vulnerable position the entire length of our tenancy because we had five people living illegally in a house without an HMO," says Livvy, who lived in an unlicensed HMO in Camden for two years. "That, and a load of what should have been very minor problems, such as leaky ceilings, damp, unplumbed washing machines and dodgy wiring, grew to insane proportions because first of all our landlord and then our agency —who took over management of the property—were almost completely uncontactable."
Tenants have the right to live in a safe property in a good state of repair, have their deposits returned at the end of the tenancy, know who the landlord is and live in the property undisturbed, to name just a few criteria. As buy-to-let properties have become more and more common, it's become the norm for some or all of these rights to be ignored. "Our landlord kept the deposit in his own personal account, which is illegal, and kept our deposit from us for eight weeks," says Sophie, who lived in the same unlicensed HMO as Livvy.
Matt, who lived in a property in Kentish Town, also ran into issues related to the deposit of his flat—among other things. Towards the end of his tenancy, the landlord organised viewings without prior notice intermittently for around three months. The landlord blamed the inability to secure new tenants on Matt and his flatmates, saying that the property was "unfit for human habitation". Matt described this as "pretty standard landlord argument stuff".
Matt and his flatmates left the property for holidays, all at the same time. "A few days before I got back from Edinburgh, a flatmate got back from holiday and discovered that while we were gone, the landlord got a cleaning company in without telling us and they had thrown out a huge amount of our stuff." Books, documents and sentimental items were among the items thrown away. There was then a massive argument: "We were telling the landlord that he owed us for damages, he was saying that he was going to keep the entire deposit because we'd ruined the house."
The landlord even tried to charge the tenants for the cleaners who had thrown away their belongings.
Matt and his flatmates found out that the landlord had failed to enter their deposit into a Deposit Protection Scheme—a legal requirement. "We honestly should have known this earlier, but we were naïve second-year university students—I assume he felt that he could screw us. We threatened to take him to court over the deposit. He immediately responded and offered to return it all, called it a 'big misunderstanding'."
Often, landlords operate on the basis that their tenants are unable to pay for legal representation, or simply want to cut their losses at the end of the tenancy. "I was constantly googling tribunals," says Livvy. "We were lucky enough, as a group of young, potentially vulnerable tenants, to have several legally-trained parents between us. But it was totally infantilising because they wouldn't listen to us or take us seriously until we got a parent threatening to sue them."
The extraordinary demand for property within the capital is one of many factors that prevents widespread regulation of property. Landlords are able to capitalise on the desperation of tenants, who are often looking for cheap accommodation as soon as possible.
Another criminal offence committed by some landlords is one that tenants may be personally immune to; tax evasion. In the borough of Newham, up to 13,000 landlords were identified as not declaring their rental income last August—almost half of all landlords in the borough. In Newham, it's a requirement for landlords who earn £2,500 a year or more in rent to register for self-assessment, and it was the first borough to introduce a compulsory landlord licensing scheme back in 2013.
While failing to declare rental income isn't a conclusive sign of tax evasion, it certainly shows the potential for it. Newham council estimated, based on its figures of unregistered landlords, that around £200m of tax wasn't being paid in London.
Newham is just one borough that's tried to curb law-dodging landlords with licensing. Boroughs such as Croydon and Liverpool have followed suit. However, it's unlikely that licensing will be rolled out across every borough any time soon—Newham and its disciples have faced a struggle with the central government and have had to defend licensing at every turn.
In 2015, then-housing minister Brandon Lewis wrote to local boroughs, urging them against licensing. "The vast majority of landlords provide a good service and the government doesn't believe it's right to impose unnecessary additional costs on them, or their tenants," he wrote. "Such an approach is disproportionate and unfairly penalises good landlords."
So, if not licensing, then what? The new tax laws as of late 2017 stood a good chance of closing up any loopholes. Landlords can only offset 75% of mortgage interest—0% by 2020—leaving them with lower net profits. Another possible solution is the continuation of the stamp duty—in particular, the Stamp Duty Land Tax, which introduced a 3% surcharge on second properties.
Yet where one loophole closes, another opens—landlords are now reportedly buying property from themselves, under Limited companies, and then claiming the cost of running the property as an allowable expense. This means less tax in the long-term.
For rogue landlords who have found themselves able to dodge taxes and licensing quietly, the Rogue Landlord and Agent Checker could bring about an unwanted spotlight. Introduced by Sadiq Khan, the mayor of London, the Checker is a directory of landlords and agents who have committed criminal offences in relation to property management. It collates data on prosecution and fines collected by every borough in London, as well as the London Fire Brigade for fire-related offences and negligence. Whether it will stop a desperate Londoner from entering a tenancy with a law-breaking landlord is subjective, but it certainly gives renters elements of choice and transparency.
Ideally, landlord offences would be prevented before they even happen. However, tenants who are subjected to illegal activity by their landlord may be eligible to go through the residential property tribunal and seek a rent-repayment order. Criteria for seeking a RRO include violence for securing entry, eviction or harassment, failure to comply with improvement or prohibition orders and, notably, control or management of an unlicensed HMO or house.
But, in reality, renters in shared properties don't have the time, finances or indeed knowledge of the system to apply for a RRO. After Matt's landlord returned the deposit, Matt discussed taking him to court anyway, but the group eventually decided against legal action. "We agreed that we'd rather just cut our losses and never have to deal with him again. We got the money back and left."
It's hard to say where the rent crisis is going—but with many young people facing the inability to buy property themselves, it's clear that reform is needed so that renting can provide a safe and secure home, as well as a lucrative business option for landlords. The two shouldn't be mutually exclusive.
Case study: Mietpreisbremse, Germany
The Mietpreisbremse was introduced in 2015 to prevent huge rent hikes in Germany; in some areas, rent had increased by close to 50% in ten years. Under Mietpreisbremse, new rent contracts can't exceed 10% of the average apartment price in the area. However, it was ruled unconstitutional by the district court in 2017, which decided that it discriminated against some landlords, giving some an advantage over others. This didn't disable the law altogether, but increased the likelihood that it would be brought before the constitutional court.
Three years later, retrospective analysis has shown that Mietpreisbremse produced the greatest improvements in those districts where rents spiralled upwards the most. However, the rent brake was unable to curb prices on lettings that were already overpriced when Mietpreisbremse was introduced.