Share Radio & Open University Join Forces on Financial Education
17/09/2015
Share Radio, the station dedicated to sharing ideas about money and finance, have launched a radio show (and accompanying podcast) about how to manage your personal finance, in association with the Open University.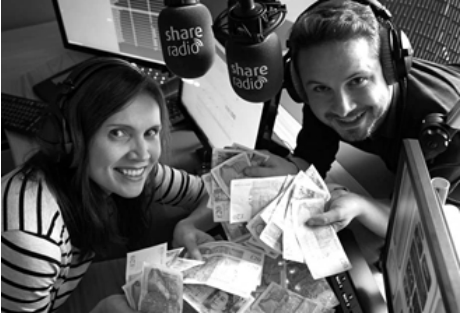 There are two 25 minute episodes per week, each accompanied by an online test, although if you miss one you can catch up via the handy podcast (isn't that useful?!)
Seriously though, the Managing My Money course is actually really useful by all accounts – in a country where more than a third of us face a monthly budget deficit by spending more than we're bringing in every month, a free finance management course is more than welcome in many homes.
There's focuses on Pensions, Financial Planning, Income, Taxation, Benefits, Expenditure, Budgeting, Debt, Savings and Investments, all of which are huge components in the overall scheme of managing a household budget and using your money wisely.
The series is presented by Glen Goodman and Annie Weston, both experienced radio professionals with excellent business acumen – Glen has worked at ITV, BBC and LBC, and Annie has also worked with the BBC, as well as producing another financial show on Share Radio.
What is extremely interesting about this course however, is that upon its completion (and the end of one last test at the end of the series), each successful candidate is presented with a certificate from the Open University's Business School, making the course a CV-enhancing tool as well as an aide to managing household income.
Best of all, it's completely free, and starts afresh every fortnight, so there's no need to panic if you've missed the beginning – there are plenty of chances to catch up and make use of the opportunity.
Share Radio Managing Director, Gavin Oldham said: "Launching our Managing My Money course with The Open University Business School is central to our strategy to help people better understand their finances. At Share Radio, we have established a strong reputation for accessible and helpful guidance on money matters and we hope this course will help people to become more confident in handling and managing their finances."
The online version of the Managing My Money course has already seen more than 50,000 people across the country take part. The course is suitable for all ages and both the online and broadcast versions will remain free of charge. For those interested and to be kept updated with the latest information, please register at www.shareradio.co.uk.