Money laundering: A capital curse
30/11/2018
What role is the financial sector taking to combat the 'dirty money' sloshing through London? And what are the challenges it faces?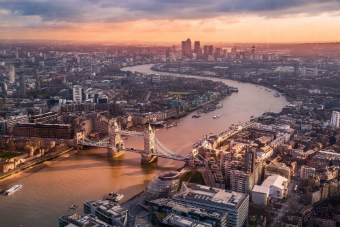 The UK's capital is awash with dirty money. That's nothing new, but the government has recently announced a fresh crackdown on this, in an attempt to clean house. As one of the key players in cash, how the financial sector responds to guidance—and to those hoping to use the City as a place to hide ill-gotten gains—will determine the effectiveness of this clean up.
A large part of the problem is the influx of Russian cash since the fall of the Soviet Union in 1991. London was then—and very much remains—the Western capital of choice for Russian officials' and oligarchs' wealth. As much as £90bn of criminal money is laundered through the UK each year, according to the National Crime Agency, and the government estimates that financial fraud costs the UK economy £6.8 billion a year, or over £100 per person.
The British National Crime Agency said this summer that potentially hundreds of billions of pounds were being laundered through Britain every year, and that it was a prime
destination for Russians looking to legitimise the proceeds of corruption. Prime minister Theresa May has recently vowed
to clamp down on Russian money, but a report by parliament's Foreign Affairs Committee has accused her government of failing to back up rhetoric with real action.
"There is no excuse for the UK to turn a blind eye as President [Vladimir] Putin's kleptocrats and human-rights abusers use money laundered through London to corrupt our friends, weaken our alliances and erode faith in our institutions," said the committee's chairman Tom Tugendhat in May.
"The scale of damage that this 'dirty money' can do to UK foreign-policy interests dwarfs the benefit of Russian transactions in the City."
The committee also said Britain should work with other
nations to make it harder for Russia to issue sovereign bonds—which aren't subject to sanctions—via banks that are sanctioned; a current practice that the report said undermines efforts to rein in Russian behaviour.
"The size of London's financial markets and their importance to Russian investors gives the UK considerable leverage over the Kremlin," the report said.
Separately, the British Treasury Select Committee, as part of its own investigation into economic crime, will be looking at how Russians use the City of London, Reuters news agency reported in May. Critics cite the 2017 flotation on the London Stock Exchange of En+ Group—a company that manages Oleg Deripaska's aluminium and hydropower businesses—as an example of the contradictions inherent in UK government policy towards Russia.
Companies House
Another factor in London's money-laundering issues is Companies House—the UK's registrar of companies, an executive falling under the remit of the Department for Business, Energy and Industry, and member of the Public Data Group—through which 42% of company incorporations were made last year. It incorporates around a quarter of a million new companies every year.
In July, Global Witness—an international NGO that works to break the links between natural-resource exploitation, conflict, poverty, corruption and human-rights abuses—found more than 335,000 of these companies haven't declared a beneficial owner.
Over 9,000 have owners who control more than 100 companies, while 10,000 are owned by foreign companies, which wouldn't meet UK formation requirements. 72% of those companies are linked to secrecy jurisdictions.
Further muddying the waters, 208,000 companies were found to be registered to a 'company factory', the name given to an address with more than 1,000 companies registered to it.
At one address in Potters Bar, the second floor alone has over 1,226 companies registered to it, 100 of which have been linked to international corruption scandals. The BBC estimates that £1.7 billion has been laundered through that single address alone.
When Global Witness analysed PSC entries ("people with
significant control"), it found 4,000 toddlers owning companies, as well as one beneficial owner who is yet to be born.
Critics point to under-resourcing issues at Companies House: there are just 20 members of staff to oversee around four million companies.
Richard Osborne, managing director of eFiling, wrote in City AM in July: "What is so frustrating is how simple the solution is. While private formation agents or lawyers are required to perform due diligence under the EU's fourth anti-money laundering directive when creating a company, the government rejected Companies House doing the same.
"Further, when an amendment was tabled to the Sanctions and Anti-Money Laundering Bill in parliament earlier this year, it was voted down by the government. This would have ensured that due-diligence checks were performed at Companies House, and safeguarded against fraud.
"While I can empathise with the determination to keep the UK as the easiest place to set up a company in the world, that good faith is currently being exploited by criminals, damaging Britain's reputation as a result.
"When we surveyed business leaders, 64% said that they believe more robust checking procedures at Companies House when new entities are formed would reduce money laundering in the UK. Importantly, 84% would be willing to pay a few more pounds when companies are formed to have due diligence performed.
This is all it would take to preserve the UK's integrity and provide Companies House with the tools it needs to police its own register.
"The government should resource Companies House so it can verify beneficial ownership data submitted to the register, investigate suspicious entries, and reject filings which fail to declare a beneficial owner."
The road to reform
Action is being taken though, despite what critics say, albeit too slow for some. In 2017, the government announced it would create an Office for Professional Body Anti-Money Laundering Supervision (OPBAS). This body is now housed within the FCA and started supervising professional bodies in February 2018. It says it will ensure anti-money-laundering standards across the legal and accountancy sectors are robust and meet consistently high standards.
OPBAS will directly oversee the 22 accountancy and legal professional body AML supervisors in the UK. It will ensure these 22 organisations meet the high standards set out in the Money Laundering Regulations 2017, and—importantly—has powers to investigate and penalise those that do not.
The Economic Secretary to the Treasury, John Glen, said: "This new watchdog will deepen the government's partnership with the private sector as we work together to tackle illicit finance while minimising the burdens on legitimate businesses. This sends a clear message to criminals and terrorists that their dirty money is not welcome here.
"Launching OPBAS delivers on the government's commitment to reform the AML supervisory regime, a key part of the 2016 Action plan for anti-money laundering and counter-terrorist finance.
"It is the latest step in the government's biggest reform of the UK's AML regime in a decade, building on wider work including enhancing law enforcement's powers through the Criminal Finances Act and updating the Money Laundering Regulations to implement the latest international standards, both of which took effect in 2017. It also complements the government's work with the private sector to raise awareness of financial crime and how to guard against it, including through the Flag It Up and the Take Five campaigns."
More modern modes of money laundering are also being targeted. This June, the FCA specifically turned its attention to the prospective criminal dangers of cryptoassets, in a letter addressed to the CEOs of the banking industry. It was also revealed earlier in the year that the financial regulator is investigating 24 businesses that deal with cryptoassets.
The FCA's letter noted that cryptoassets can be abused because they offer potential anonymity and the ability to move money between countries, and said that firms should take "reasonable and proportionate measures" to lessen the risk of facilitating financial crimes that are enabled by cryptoassets.
The FCA's letter said that firms should: "Assess the risks posed by a customer whose wealth or funds derive from the sale of cryptoassets, or other cryptoasset-related activities, using the same criteria that would be applied to other sources of wealth or funds." The letter goes on to identify a key way in which cryptoassets differ from other assets as being that the evidence trail behind transactions may be weaker.
The letter also states that the use of a "state-sponsored cryptoasset", which is designed to evade international financial sanctions by a client, is viewed as a high-risk indicator by the FCA. This could be like the Venezuelan petro (the first state-sponsored cryptoasset), which the Venezuelan government has described as a means to circumvent US sanctions. Use of the petro by Americans has already been banned in the US by an executive order.
Despite criticisms of the government, Companies House and the challenges posed by the new cryptoassets, the recent ramp-up against dirty money seems to be already bearing fruit. HM Revenue and Customs, which oversees compliance with anti money-laundering regulations by businesses including accounting firms, estate agents and dealers in luxury goods such as art and jewellery, fined companies £2.3 million in 2017-18, up from £1.2 million a year earlier, according to the Financial Times in July.
In January 2018, the FCA launched a new phase of its Scam-Smart campaign—an anti-fraud awareness campaign—with nationwide multimedia advertising. Over 445,000 people have visited the ScamSmart site this year, so the message of vigilance appears to be getting through to businesses and the wider public too.