Meet the women in finance
11/01/2019
As is the case in many industries, the world of finance suffers from a gender imbalance at its highest levels. However, many women are making the industry work for them.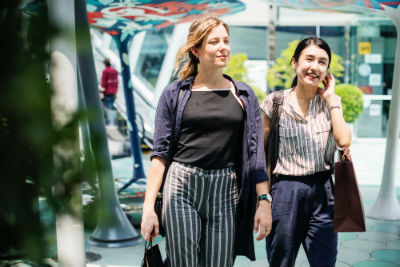 Think tank New Financial reported in its 2016 research that nearly a quarter (23%) of board directors of UK financial-services companies are women, but only one in seven (14%) executive-committee members are female. The report also argued that the 23% average female representation on boards disguises the lack of women in executive directorships: the proportion of female non-execs (27%) is nearly four times that of female executive board directors (7%).
We spoke to two accounting professionals who serve as an example that women can be—and often are—leaders in their chosen financial field, whether by setting up their own businesses or even training the next generation of finance personnel.
Angela Demoore
Angela works as a lecturer in accounting and finance in Suffolk and trains people to become bookkeepers and accountants, as well as having her own practice. She won the Association of Accounting Technicians (AAT) Champion of the Year 2018, and is a great example of why gender shouldn't stop you being the boss or an industry leader.
What did you study, where and when?
After being told during GCSEs that my teachers didn't feel that I was 'clever enough' for A-levels, I was at a bit of a loss with regards to direction! I didn't know what I wanted to do, other than the fact that I wanted a career in 'something'.
Not put off, I achieved my ten GCSEs grades A-C and decided to go and study business at West Suffolk College, a vocational BTEC qualification. It covered such a broad area, I was surely able to find a focus that would interest me, and I was right! While not particularly a lover of maths at school, finance and accounting blew me away and my whole world started to take shape.
Achieving D*D*D*, I applied for universities, and after a year at Essex University studying for a degree in accountancy I felt that something wasn't quite right. Looking through the local papers, I saw a vacancy for an accounts assistant and decided I needed to try some hands-on experience.
My first role in industry was in construction, and after some further research I asked to become an apprentice and study AAT so that I could earn some qualifications on the job. I went back to West Suffolk College, with the same lecturers I'd had before, and worked myself through Levels 2, 3 and 4.
What was your first job in the industry?
Accounts assistant in the construction industry, where I looked after the sales and purchase ledger for a company that specialised mainly in cavity-wall insulation. I loved this job mainly for the team around me—to this day I still quote things my financial director would say to me: it didn't matter what level you got to in your career, it was the basics and the fundamentals needing to be correct and sound that were key to success. Never forgetting those basics is a value I will treasure always!
It was in this role that I found a passion for IT systems, learning how things work and designing new and improved ways of doing things, with the software already in place.
What do you do now?
Full-time, I'm a head of department for accounting and finance at West Suffolk College and lecturer at the University of Suffolk. I lead on a number of qualifications such AAT (Association of Accounting Technicians), LIBF (London Institute of Banking and Finance), CiLex (Chartered Institute of Legal Executives) and soon to be accredited by the college, CIPP (Chartered Institute of Payroll Professionals).
I oversee around 200 students, from the ages of 16 to 70+ who have an interest in finance or legal studies. What I've noticed most with teaching is that, with full-time students, it's males that dominate the finance subjects—literally only three or four females in a room of 24 students. This is in stark contrast to adult-learning classes, where I see the complete opposite: three or four males in a room of females! Maybe we're seeing a trend of women deciding on finance in later life; it's an interesting question.
I'm also part of a curriculum-initiatives team that looks at how we can use projects to enhance a student's learning experience—bringing industry live projects into their curriculum. Examples of projects include building a racing car—with a male-dominated automotive department—and making a feature-length movie of a true story.
Part-time, I'm an AAT end-point assessor, which takes me out and about to different accounting apprentices, assessing them on their learning journey through their careers to ensure they have the standards required for their level of studies. Interestingly, I've assessed more males than females—all have been in the 17-20 age bracket, so not dissimilar to my own student-cohort patterns. When my second daughter turned six weeks old, I decided to start my own practice and still run it to this day, just on a much-reduced scale due to my other roles.
Why did you go into lecturing and training?
I went into lecturing because in my own practice I was discovering many people completing bookkeeping tasks and not really understanding the implications of what they were doing!
I wanted to fill a void and help people understand their numbers and fully appreciate where they had options for their business. I wanted to do this in a training capacity. With my own start being hazy through not knowing what to do, and having achieved my CIMA qualifications, I wanted to help others like myself, in seeing that an accounting career isn't only for those who are good at maths, but for those who maybe aren't so strong in it too! It's a career that needs logical thought, a balanced mind and an attention to detail.
What I love about my job most is the reward of making a difference! Taking a student from point A and delivering them to point B, with more job prospects, enhanced knowledge and appreciation of the industry, and then seeing them fly with their careers. To hear of their careers years later and know that you were part of that journey for them, it's a very special feeling.
What have been the biggest challenges in your career so far and how have you tackled them?
My biggest challenge initially was my age! At 21 I was management accountant for a UK arm of a global company in manufacturing, and then acting financial controller for a Danish company at 23 years old. This created challenges in many male-dominated boardrooms, where the ages round the table were quite a bit older than myself! Those that had direct involvement with my work appreciated and understood my passion, drive and determination, while with others I found it more difficult to break down the barriers.
At the time, I didn't see being female as my main challenge; it was more the age issue.
What advice do you have for people wanting to go into accounting and for those who might want to pursue a career in teaching it?
Do what feels right to you, set your goals and don't be afraid to take opportunities. If it's something you want, you'll find a way to make to make it happen!
Now in my seventh year of teaching, it's a career that's full of reward—not a single day is the same as another. I saw an opportunity to take my accounting career into training, and having supported well over 700 students in both accountancy and finance, I've also seen a number of them start their own dreams
with building their own businesses.
To have a student walk into class and state they were terrible at maths at school and won't enjoy their accountancy module, to then complete it with top grades and go off to start their new career in finance, is humbling. Their 'worst' subject actually becomes their best!
Gemma Denham
Gemma is 29 years old, runs her own practice in Devon and was recently shortlisted for Licensed Member of the Year by the AAT. She proves that age as well as gender doesn't have to be a barrier when it comes to being the boss in finance.
What did you study, where and when?
I started my AAT studies in 2005 at A+ Training via monthly workshops.
Why did you decide to pursue accounting as a career?
I intended to pursue an academic career, but on starting my AS Levels I decided it wasn't for me. Both of my parents are accountants and my cousin had recently qualified ACCA, so I took some guidance from them and searched for a local apprenticeship.
How did you come to set up your own business?
I was unhappy in my job and I felt I wasn't meeting my own potential. I was also struggling with maternal guilt for not being able to spend more time with my children, and I realised it was time to do something about it. I wanted to commit fully to the business so, rather than trying to build it part-time on the side, I took a leap of faith and left my job.
What have been the biggest challenges in your career so far and how have you tackled them?
The biggest challenge was the initial start-up phase and gaining those first few clients. In this industry, like many others, business grows by word-of-mouth. I knew I just needed that first client and the word would spread. I attended networking events and started social networking with Facebook, and from there a client I'd worked with many years before contacted me after hearing my news and asked if I could meet with them: they became my first client.
Only recently I had a gentleman visit the office looking for some help with his tax return. We chatted for a little while, then he asked where 'the man' was (referring to my husband, who visits the office occasionally to help with the filing and post). I explained he was at his job and the gentleman replied that he would come back another time to discuss his tax return with him. I responded that if it was a tax return he needed help with, he was already speaking to the right person. He promptly left! Thankfully, this is the one and only gender-related issue I've ever experienced throughout my career.
I tend to have more issues with age than gender, as I started my AAT studies at just 16 and was lucky enough to gain my practicing licence at 21 some years ago. I feel sometimes clients think I can't possibly be old enough to be an accountant! I've had some openly ask how old I am, and I avoid the question by saying that I've been doing this job a long time now as I started straight out of school. So far this has satisfied everyone.
What advice do you have for people wanting to go into accounting and for those thinking about setting up their own practices?
Accounting isn't just a numbers game—you also need to be able to deal with people and you need to be quite thick-skinned. If this doesn't come naturally to you, go to as many networking events as you can and practice! The worst people can do is say no.