How energy start-ups are transforming the UK grid
07/05/2019
In 2016, the global renewable-energy sector employed 9.8 million people. Closer to home, more than 60 energy start-ups have launched in the UK in the last ten years, grabbing a 20% share of the country's £55bn energy market. Here, we profile a few of the newest, greenest energy start-ups on the market.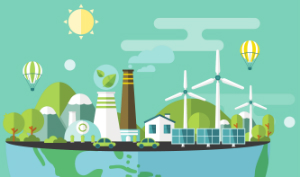 Labrador
What does it do? Labrador is a smart-data company, providing services to both consumers and energy suppliers by ensuring that energy users are always on the cheapest energy tariffs available to them.
Based: Westminster, London.
Funding: £1.9M across three rounds, most recently equity crowdfunding on Crowdcube.
How is it disrupting the energy market?
Labrador is using technology to change the customer's relationship with energy, ultimately allowing consumers to stay on a cheap energy tariff forever.
The Labrador Retriever is a free physical device that tracks household energy use, eliminating the need for manual meter readings. Based on individual usage, the device can predict when a better deal is available and switch automatically without the usual hassle.
Customer autonomy
Although Labrador offers an auto-switching service, it doesn't mean customers have no choice. "We offer a range of preferences customers can choose from and change," explains founder Jane Lucy. "This includes the preference to only switch to a green tariff. As a secondary feature, our technology can also enable customers to see what energy they're using and cost in real time—this has been shown to help people further reduce their energy cost and consumption. It's not a pre-requisite to be a data geek—the energy dashboard is optional, but can have some other benefits like seeing if your kids have cranked up the heating after you've left home..."
Open Energi
What does it do? Open Energi manages distributed energy to reduce radically electricity costs and provide flexible capacity to enable a 100% renewable-energy system. Since 2011, the company has connected over 3,500 assets at over 400 sites, working with leading businesses, utilities, developers and technology partners to deliver innovative solutions that are transforming how energy is supplied and consumed.
Based: Marylebone, London.
Funding: $8.4M over two venture rounds.
How is it disrupting the energy market?
The benefits of Open Energi are cross-sector: they allow infrastructure developers to optimise their assets and enhance customer value; they radically reduce the cost of supplying power for energy suppliers and traders, while reducing the cost of consuming power for industrial and commercial use; cutting-edge products maximise value for technology manufacturers.
The Open Energi portfolio includes an eclectic mix of applications, from Tesla superchargers, a battery at Arsenal football club and assets managed on behalf of water utilities, supermarkets and aggregates companies.
Artificial Intelligence
David Hill, Open Energi's commercial director, explains how their use of AI contributes to a more sustainable future. "Open Energi makes use of mathematical techniques, like those that allow machines to defeat chess and Go masters, to transform how we deliver and consume electricity.
"Our Dynamic Demand 2.0 technology uses artificial intelligence to co-ordinate distributed energy assets at scale—from electric vehicles and battery storage to industrial equipment. It puts a 100% renewable-energy system within reach, balanced by real-time demand flexibility, where the cost of that input is data alone. You see a future that has a low cost of operation and in which consumers are in control of how they use energy."
Ecoisme
What does it do? Ecoisme is an AI home-energy assistant that offers suggestions on how to reduce customers' electricity consumption and bill costs.
Based: Old Street, London
Funding: $651.3k over nine rounds, including a mixture of crowdfunding, seed and venture rounds, and a grant from EDF Energy.
How is it disrupting the energy market?
Ecoisme is using Artificial Intelligence (AI) to provide precise and valuable tips that can help people save up to 15% on their energy bills. Through a combination of a mobile app and an energy monitor installed in the breaker panel, Ecoisme can detect major home appliances, solar-energy production from solar panels and grid-energy use.
If integrated with other Internet of Things (IoT) devices, Ecoisme can manage them according to local tariffs and the user's habits. After the sensor captures the accurate power data in the electricity panel, it's processed and displayed within an easy-to-understand app. Alexander Diatlov, chief operating officer and cofounder, suggests that Ecoisme solves the problem that many homeowners face: overpaying on their energy bills.
"Overpaying for utility services consists of two components: waste of energy and non-optimal tariff plans. We're the only company that's sitting between advanced energy management and utility switch. It means that we're targeting the whole problem of overpaying for utility bills."
Contributions to sustainability
Ecoisme redefines energy monitoring, giving energy-consumption insights in a simple and fun way via the app—or even AI home software such as Amazon Alexa. The Solar Kit feature means that Ecoisme knows how much energy solar panels are generating, and notifies users if they are spending more electricity than they generate themselves to prevent overpaying for electricity from the grid.
"Currently, our business model relies on hardware sales," explains Diatlov. "In the future, we're planning to provide the hardware for free and charge a small fee for our services. In this way, many more people will benefit from our services and start saving energy instead of wasting it."
Piclo
What is it? Piclo is a software company on a mission to make electricity cheap, clean and abundant.
Based: Old Street, London.
Funding: £1.9m, including funds from the UK Government Department for Business, Energy & Industrial Strategy (BEIS).
Bridging the gap
Piclo develops software to increase the efficiency of energy grids. Piclo Flex is an independent marketplace for buying and selling smart grid-flexibility services through auctions, incorporating the latest web design and seamless application programming interface (API).
CEO and co-founder James Johnston doesn't think of Piclo as a disrupter in the energy space, but a facilitator that bridges the gap between disruption and the infrastructure it needs. "We provide a marketplace that matches up the requirements of the companies that run the grid and keep the lights on with new technologies like electric cars, data centres and renewable energy. The grid plays a key role but is starting to struggle with the amount and pace of change. Traditional methods of maintaining the grids and networks by reinforcement are no longer enough.
"Our marketplace matches them up with more innovative solutions for solving their congestion problems and constraints. The grid can advertise what their needs are for flexibility or a more innovative service. On the other side of the market, providers of those services bid to win these contracts."
Transparency and visibility
One way Piclo contributes towards a more sustainable future is by adding a layer of transparency and visibility that ensures green initiatives are supported by the grid. The marketplace aids decarbonisation by providing a cost-effective means of connecting electric cars to the grid, as Johnston explains.
"If everyone in a street bought an electric car, that's all well and good, but the local grid might fall over if they decided to all recharge at the same time. The grid
won't be able to support it. What we would do is help to find someone to come in and provide flexibility."
When it comes to a greener future, Johnston feels there are lots of different solutions. "We provide the means, transparency and the option process for sustainable innovation to work by driving system change that allows lots of different ideas to emerge. Fundamentally, it's about offering transparency and a process by which the grid can support more decarbonised generation."
Aerial Power
What is it? Aerial Power develops drones that clean solar panels.
Based: Soho, London
Funding: $200k including seed round and non-equity assistance from Pitch@Palace
How is it disrupting the energy market?
Aerial Power is the first company in the energy market to develop a fully automated drone-based method for cleaning solar panels. Their primary product, the SolarBrush, is a specially-adapted Unmanned Aerial Vehicle (or UAV). Low-maintenance and efficient, it provides an environmentally friendly way of maintaining the efficiency of solar farms, ensuring they operate at the highest capacity.
The 'SolarBrush' drone is self-flying, which eases the upkeep of solar-power plants. Compared to other, less-advanced cleaning methods, Aerial Power's solution is ultimately more environmentally-friendly due to having lower emissions and being cheaper to use. It requires few staff and is easy to transport due to its small size.
Aerial Power aims to push innovation and respond to the changing energy sector, according to founder Ridha Azaiz. "While trying to take future advances in technology into account and plan our strategy accordingly, we try to have an adaptable and agile set-up. We aim to cut overhead costs so we can adapt to any new developments in business or technology that might arise in a short timeframe, particularly in the drone sector."
Customer autonomy
The cleaning process performed by the drone is waterless, fast and cost-efficient, which all contributes to an operation with a light ecological impact. Due to the flexibility of SolarBrush, Aerial Power hopes to leapfrog existing cleaning technologies, especially in developing countries. Studies in the UAE show that if solar panels are left uncleaned for a month, the power output can decrease by up to 35%. After a sandstorm, power output can decrease by a huge 80%.
The implications are significant in raising the yield and viability of solar farms, particularly in arid regions that present the problem of deteriorating panel efficiency due to dust build-up on the surface of the glass solar panels.
Bulb
What does it do? Bulb is a start-up energy supplier that provides 100% renewable electricity and gas to homes across the UK.
Based: Shoreditch, London.
Funding: A whopping $61.4m across two venture funding rounds
How is it disrupting the energy market?
Bulb is taking on the Big Six energy providers to bring cleaner, more affordable energy to British households. Its technology-led business provides 100% renewable electricity and 10% green gas, but these sustainable sources aren't inflating prices for consumers.
Bulb founders Hayden Wood and Amit Gudka believe that "business can be a force for good" and says Bulb is "out to show that to the world". Bulb's aim to keep customers happy is so far succeeding—it's now the top-rated supplier on Trustpilot, thanks to schemes such as promising to add £10 to their member's account if they wait more than five minutes on the phone, or wait longer than five working days for an email response.
Energy's light-bulb moment
Bulb is serious about sustainability. For every unit of electricity that customers use, a unit is produced and put on the grid by a renewable source, such as Oak Grove Solar Farm in Monmouthshire. 10% of Bulb gas comes from biomethane—a gas produced sustainably from organic matter such as sewage and manure.
Founder Hayden suggests that the wholesale cost of eco-friendly energy is only "marginally more expensive than the wholesale cost of conventional energy
coming from gas and coal, but customers were having to pay a premium, sometimes up to 25% more, for green energy". By relying on automation and modern technology to save spending, Bulb is able to pass savings onto members and make sustainable energy more accessible than ever before.
The start-up buys energy from independent renewables across the UK, with sources varying from solar and wind to hydro or anaerobic digestion. It's also a certified B-Corp, meaning it meets the highest social and environmental standards.