Feeling entrepreneurial? Act fast!
27/07/2015
It's the best time ever to start your own business in the UK, according to Lord Young. The Conservative peer was speaking at the launch of the third Small Business Saturday campaign, which celebrates small firms in the country.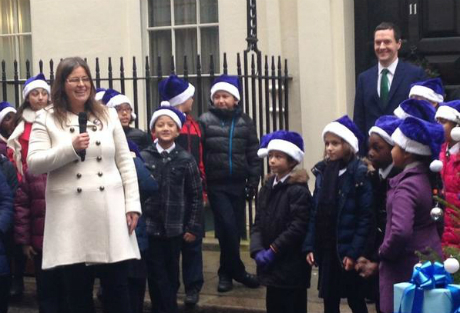 Michelle Ovens MBE talking about Small Business Saturday with George Osborne outside Downing Street.
Lord Young emphasised the current climate was perfect for young entrepreneurs with a good idea, claiming that there are far fewer challenges than there have been in the past, and that it's possible to begin your own business with as little as £5,000, as long as you were focused on your idea and prepared to give it the dedication and time that it needed to flourish.
Who is Lord Young?
Lord Young is a Conservative peer in the House of Lords, and in 2010 he was appointed the enterprise advisor to the Prime Minister, which meant he was shaping the direction of small firms all over the country. He was one of the main proponents behind moving American Express' Small Business Saturday scheme to the UK in order to raise the profile of small businesses– last year over 16 million people from all over the country got involved with local firms to show their support.
He added: "I have worked for big companies, I ran one of the top 10 FTSE companies, but the most exciting thing in my life was when I went off and started to work for myself."
Michelle Ovens MBE, Small Business Saturday's campaign director, told the crowd at this year's launch event in London that the 2015 drive feels a whole lot more personal. She went on to say that this was a huge positive "not just for us and the small businesses, but also for the many, many consumers that have really connected to the idea of a small business community."
Lord Young said that he is pleased with the legacy of his work with the government on the small business reports. "I hope it has raised the profile of small firms and the government is taking it more seriously," he said. During his time as enterprise adviser, Start up Loans, Growth Vouchers and Contract Finder were set up. American Express founded Small Business Saturday in the US in 2010 and continues to support the UK campaign.
So if you fancy yourself as a budding entrepreneur, with a small business idea that you reckon might make you a superstar, why not check out Small Business Saturday's website and check out the help you can get to take that dream and make it a reality.