European a-MBA-ssadors
23/07/2015
A Masters in Business Administrations (MBA) is a stalwart of the financial world. Notoriously expensive, widely recognised and reassuringly common, an MBA is an in-depth course that gives its students a real insight into how a business works in practice and the leadership skills to enter the management realm.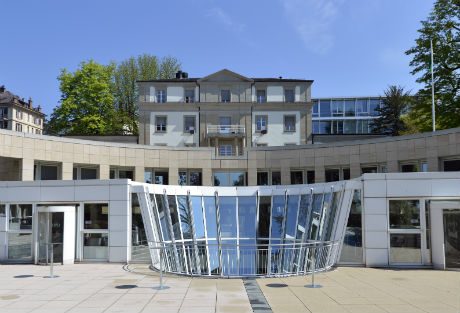 If you're considering an MBA and want the best advice about what it is and how it works, be sure to check out our full guide to the course.
Something you might not even thought about, however, is studying outside of the UK. Did you know that according to data from employers around the world, only three of the top ten places to study an MBA in Europe are in Britain? (Oxford, Cambridge and London, for the record). Here are some options for going continental for your qualification!
Switzerland
Lausanne, Switzerland is the home of the International Institute for Management Development, commonly known as the IMD. The Financial Times is a huge fan of this place, ranking it first for open programmes across the globe in 2012, 2013, 2014 and 2015. It boasts the highest salary for its MBA graduates three years after completion, at a whopping $125,000 per annum, and has the highest percentage of international students of any business school, at 97%!
Italy
The SDA Bocconi School of Management is located in the Fashion Capital of the World – Milan, and is widely recognised as one of Europe's top business schools. Whilst it has the lowest proportion of international students as any in the list, it still takes in 67% from outside Italy. If you want to mix business, culture and cuisine, you could do a whole lot worse!
France
The French have secured themselves two spots in the top 10, ranking at #9 and #1, and both are in the French capital. At #9 is the HEC, located in the southern Parisian suburbs (and close to the Versailles Palace), which has traditionally been considered the more prestigious of the two big business schools of Paris – think of it as the Manchester United of the two. Established in 1881, it provides a complete student experience for its full-time students, who are catered for whilst enjoying a spectacular campus and a first-rate education.
Coming in as Europe's best business school though, are HEC's cross-town rivals, the newly illustrious INSEAD, which is an acronym that roughly translates as the 'European Institute of Business Administration'. Located in the South Eastern suburbs, in Fontainebleau, it's flagship French campus markets itself as 'The Business School for the World.' Interestingly, INSEAD has the second highest number of MBA alumni who have gone on to become CEO's of companies in the Financial Times' Global 500 rankings, second only to the business school across the pond in Harvard. With the highest employer rankings and a spectacular array of awards, it is no wonder INSEAD has become recognised as Europe's leading light in the business school arena.
Spain
Like the UK, Spain has three schools in the European Top 10. Somewhat incredibly, it manages to split this perfectly between Madrid and Barcelona, as you'll see.
Ranked at #7 in our list is the ESADE School in Barcelona, which also boasts a prestigious law school, making it a doubly impressive institution. In 2006 and 2007, the Wall Street Journal named ESADE as the top business school in the world and it certainly holds its own with the big boys, which is good going for a relatively small institution formed by a partnership of Jesuits and entrepreneurs! Located in a beautiful setting adjoining the Collserola Natural Park, ESADE offers an excellent academic culture in an authentic Catalan setting.
At #5 is the IE Business School in Madrid, part of the IE University. The school's three MBA programs (Executive MBA, International MBA and Global MBA) have all consistently ranked highly in global surveys – showing the prestige of IE despite its young age. It's the most international of the Spanish schools with 89% of its students coming from an international background. If you're interested in start-ups and innovation, this is somewhere worth checking out, as the IE is famous for its support of young entrepreneurs and their ventures through on-site facilities and readily provides advice to keep things on track!
Spain's top business school, IESE, has campuses in both Madrid and Barcelona. It came to prominence in 1964 when they launched the first European two-year MBA course with backing from Harvard. It's consistently ranked in the world's most prestigious business schools and graduates can expect to be earning well over $110,000 per year, three years after graduating. The ability to learn in different locations is unique, and the IESE became the first ever European institution to open a permanent American campus when it opened the IESE:NY in New York in 2010.
So there you have it – seven European business schools with opportunities galore. If you're looking to expand your horizons with an MBA, don't rule out going continental – it might be the best decision you ever make!
Read more: