Drama or business? RADA launches courses aimed at aspiring businesswomen
01/06/2017
A new extended range of professional development courses designed specifically for women in business have been launched by RADA in Business, the commercial subsidiary of the world-renowned Royal Academy of Dramatic Art (RADA).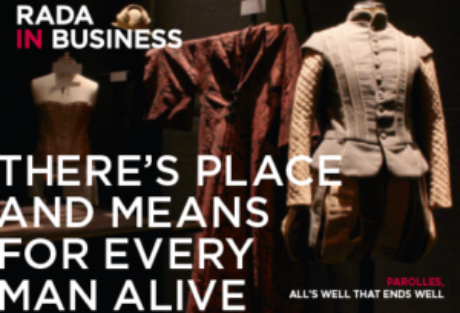 RADA LAUNCHES DEDICATED PROFESSIONAL COURSES FOR WOMEN IN BUSINESS
The leading global training provider has launched three new courses to work with women at each stage of their career, complementing its highly successful Executive Presence for Women programme, to equip female graduates, middle managers and women on their path to senior roles with the communication and impact skills required to succeed in male-dominated corporate environments.
Each of the three courses focuses on teaching women to communicate with authority, authenticity and impact in their professional roles through body, language, breath and voice training.
Confidence and Presence for Women (Take the Stage)
A one-day entry-level course that helps female graduates to make the transition from higher education to the corporate world.
The entry-level course, costing £625 for individuals or £3,000 when delivered in house for eight delegates, focuses on status, body language, breath, voice and personal brand.
It enables women to sustain their assurance in their personal ability as they begin their careers, whilst also equipping them from the outset with the tools to meet the common challenges often faced by women in business.
Impact and Influence for Women (Step into the Spotlight)
Aimed at women in middle management, this course focuses on empowering women with the skills, confidence and belief to put themselves forward for more senior positions.
This course costs £1,850 per participant for the open course, or £7,600 if delivered for eight delegates in house.
Executive Presence for Women (Hold Your Space)
The senior level programme is a modular programme which includes 3 workshops, coaching and supportive materials, and focuses on the skills needed to transform performance in the workplace at the highest levels of business.
This course costs £2,800 at foundation level or £3,800 for the applied level which includes one-to-one coaching sessions.
Participants are taught to deliver a commanding presence and to develop confidence and excellent communication skills, in order to lead with greater authenticity and authority, to transform their performance in the workplace.
Liz Barber, Client Director at RADA in Business stated that: "We're delighted to offer these courses, specifically tailored to women in business. We have worked with women in business for well over a decade to overcome the common challenges they often face in the corporate world, and our aim with this new range of courses is to equip them with the skills they need to make sure they are heard, own their own space, and have the impact they desire.
"By offering courses for women at different stages in their career, we are able to ensure each course reflects the individual needs and challenges of women at various levels. They cover everything from developing a personal brand and getting themselves noticed, to enabling them to stand out in in a boardroom dominated by men, or in environments in which it may still not be usual for women to excel to the top.
"The courses are designed to enable and empower women to be their best version of themselves, at work and beyond, to develop the skills to overcome the hurdles and bias they may encounter on their journeys to the top."
Each programme can be delivered for individuals through the RADA in Business open course portfolio, or in-house for businesses looking to skill up a number of employees through tailored training
RADA in Business has worked with women at all levels in businesses both across the UK and further afield, including HSBC, the Foreign and Commonwealth Office, Astra Zeneca, Microsoft, Intel, London School of Economics and OmniComm, to name a few.