Crowdfunding campaigns that made history
03/01/2019
Crowdfunding is an innovative method of drumming up funding. People have started businesses, brought products into existence and attended university by attracting the right backers. Here are some of the most notable crowdfunding ventures of all time.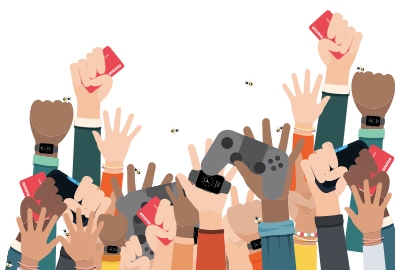 Monzo
Raised £2.5m via CrowdCube
What?
Monzo is an app-based bank that started off as a pre-paid card. In 2017, UK banking licence restrictions were lifted and Monzo was able to offer customers a current account. The latest version of Monzo works like a conventional bank, with a few twists that borrow from smartphone culture: customers set monthly budgets, receive notifications on spending from the app and pay other Monzo users instantly.
Timeline
Founded in 2015, Monzo was originally known as Mondo, but had to change its name due to a legal dispute. It set the record for the quickest crowdfunding campaign in history in 2016, when it grew by £1m in just 96 seconds.
Success?
Monzo has built a brand based on transparency, keeping its funders and future customers up-to-date at every stage from inception to the present day. Its savvy use of social media and marketing, and clever understanding of what young spenders want, earned it over 200,000 customers by May 2017, who in turn spent over £250 million. As of October 8, it had 1,046,137 customers— and counting.
While it looks as though the fluorescent pink card has established itself permanently in wallets everywhere, it's also worth noting that the bank's overall losses up to February 2018 were £33.1 million.
Pebble watch
Raised $20.4m via Kickstarter
What?
Before Apple Watches were adorning the wrists of tech heads, we had Pebble Watches—an idea conceived of by Eric Migicovsky, who wanted a device that would display messages and notifications when he couldn't access his phone while cycling. The smart watch can display messages and notifications from Apple and Android devices. The original $99 Pebble price mark is telling of its status as the first of its kind: today's Apple Watches start at £399.
Timeline
A Kickstarter campaign opened for Pebble on April 11, 2012. In just over a month, it had raised $10.3 million: at the time, the highest figure reached in Kickstarter's history. The first watches were delivered to backers in 2013, with a second generation—Pebble Steel—hitting the shelves in 2015. It was Pebble Steel that broke the Kickstarter record, attracting $20.4m in funding—unbeaten to this day.
Success?
Pebble's record-breaking second round of funding didn't see it through. The Time 2 Series watches were shut down in 2016, with Kickstarter backers receiving a refund. The company filed for insolvency in December 2016. Pebble's intellectual property was purchased by FitBit, and by 2018, all support for Pebble devices was withdrawn. Criticised for its simplicity—which, with the arrival of the Apple Watch and other competitors, appeared sparse—the Pebble Watch ultimately failed to stand the test of time.
Ouya
Raised $8.5m via Kickstarter
What?
Ouya is a type of gaming console designed to rival the dominant consoles in the market. It features its own store with applications and games. It's easy to modify the hardware—Ouya's website invites customers to "unscrew it and have a look around"—and all Ouyas can be used as development kits without users needing to pay licensing fees.
Timeline
Ouya was first conceived in 2012, when Julie Uhrman teamed up with a designer and product manager to create a new type of console. Kickstarter backers received their Ouyas in March 2013, and the console was made available to the rest of the public in June 2013.
Things looked positive in early 2015 when, after a few iterations of the console, Ouya received $10m of investment. By July 2015, however, the console was discontinued.
Success?
Early in Ouya's funding, there was reason for celebration: it hit its target within eight hours on Kickstarter, and joined just seven other projects in hitting the $1m mark. Ultimately, the campaign finished with Ouya raising 904% of its initial goal.
However, the company found itself in debt and began the process of trying to sell in April 2015. Following the sale of Ouya to Razer Inc. in July 2015, and Ouya's discontinuation, the project must be deemed a failure.
Flow Hive
Raised over 12m via Indiegogo
What?
Flow Hive is a type of beehive designed with the welfare of bees in mind. Rather than opening the hive to obtain honey, Flow Hive has a lever that allows for honey to be collected, and for the bees to remain undisturbed by the process. Beekeepers need only "Turn the Flow Key and watch as pure, fresh honey flows right out of the hive and into your jar."
Flow was invented by Stuart Anderson and Cedar Anderson, a father-and-son team from Australia, who have created a process "far less stressful for the bees and so much easier for the beekeeper".
Timeline
Flow Hive hit the crowdfunding site Indiegogo in February 2015, surpassing its original goal of $70,000 by a long way, hitting $12m. Around 51,000 hives had been shipped by March 2018. A simple road to success, it would seem—but Cedar Anderson said the initial process took much longer: "My dad and I set to work on a decade-long task of inventing the beekeeper's dream."
Success?
Flow Hive isn't a cheap option, which means that it hasn't been a huge success in reforming commercial beekeeping. But the innovation of the hive did trigger a copycat Chinese design, which the original founder says infringes on Flow Hive's copyright.
The real success has been in the amateur beekeeping field: as niche as it sounds, Flow Hive attracted global attention from over 130 countries. In Australia, beekeeping clubs saw a rise in membership. Meanwhile, Flow Hive continues to retail around the world, with Flow Hive 2 on sale for $749. It remains the most-funded Indiegogo project of all time.
Oculus Rift
Raised $2.5 million on Kickstarter
What?
With Virtual Reality heralded as the next big thing in the tech world, and rolled out at conventions the world over, it makes a lot of sense that a particularly VR headset has its origins in crowdfunding—itself a business-funding generator that relies heavily on tech. Back in 2012, Oculus Rift's USP head-mountable display, together with its affordable price, was its unique selling point. Headsets have a variety of gaming and non-gaming uses.
Timeline
In 2011, 18-year-old Palmer Luckey constructed the first prototype for the Occulus Rift in his parent's garage. In 2012, Oculus was founded, and two months later it launched a campaign on Kickstarter to fund the development of Rift's first development kit: Rift DK1. The Rift DK1 was released on March 29, 2013. It would be the first version of many Occulus Rifts, with the headset eventually being released as a consumer product in 2016.
Success?
Whether due to its innovation or merely because it was in the right place at the right time, Occulus Rift is a huge success. This is perhaps best demonstrated by its financial record: its $2.5m start looks humble in comparison to the $2 billion social-media giant Facebook paid to purchase the company in March 2014. VR's prominence within the world today has undoubtedly made the Rift's climb to success a much easier one.