A guide to social enterprises
21/11/2019
There are over 100,000 social enterprises throughout the country contributing £60 billion to the economy and employing two million people. To learn all about them, we sat down with Ffion Plant—Project and Research Manager at Social Spider, a Community Interest Company (CIC) based in Walthamstow which publishes three independent community newspapers and carries out socially-minded research, consultancy and support in the community media, social investment mental health and social enterprise sectors.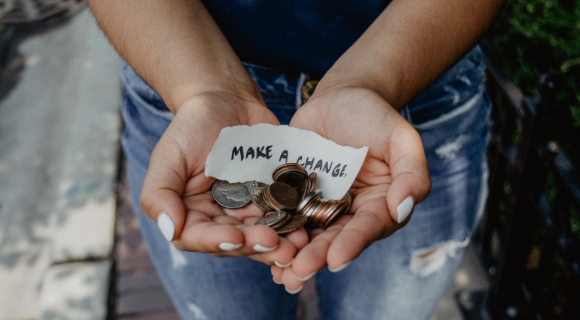 Can you explain what social enterprises are?
The term "social enterprise" has no fixed definition, but generally, it is any business operating with a social purpose. Social Enterprise UK describes them as "businesses that are changing the world for the better". Social enterprises have a social mission, but the extent to which that mission dominates over creating profit varies. For a social enterprise to continue to create impact and do the "good stuff", it needs to be financially sustainable. If you're doing "good stuff" but are loss-making or reliant on (ever-dwindling) grant funding, then you may struggle to continue realising your social mission.
Social enterprises can have a range of different legal structures, which in turn each have a host of different rules for governance, liability, treatment of profits and charity status. Some of these include Community Benefit Society, Company Limited by Guarantee and Company Limited by Shares'.
To confuse matters further, social enterprises may describe themselves in a range of ways including "socially responsible businesses" or "profit with purpose organisations". It is a pretty varied category and social enterprises encompass a diverse range of organisations seeking to create a positive impact in almost every sector from local neighbourhoods to on an international scale.
How do these kinds of businesses function economically?
Social enterprises have different business models, but can be distinguished from regular businesses as they either reinvest their profits or donate them to a cause benefitting society. Funding for social enterprises can come from a range of sources including grants, traded income (selling goods or services) or replayable investment.
'Social investment' is a form of repayable investment which differs from a loan you may get from a high street bank. Social investors expect a demonstration of the social impact created by the investment in addition to getting their money repaid (with interest). For example, an organisation trying to improve the literacy of young London students may report to investors on the rate of students' literacy improvement based on tests before and after those students complete the programme.
Social investors are more likely to invest in riskier ventures and may be willing to be flexible on loan repayments or expect less interest to be paid on their loan.
Many charities try to have some diversity in their income streams to increase their financial resilience. The different funding options available are dependent on the social aim, business model or legal structure of an organisation.
What benefits do they have to the community?
There are social enterprises operating across almost every sector benefitting different communities of people. In the UK, social enterprises are often outperforming their mainstream SME (Small to Medium Enterprise) counterparts in many areas including turnover growth, job creation, workforce growth and start-up rates. The benefits are as diverse as the companies themselves.
At Social Spider, we publish free, independent local newspapers written by and for the community. The impact on the community is an increased awareness of what's going on in the local area and a channel for community members to flag community concerns and triumphs or share stories. This leads to stronger local cohesion, a more representative and inclusive community voice and the increased ability to hold power to account.
Social enterprises are well-placed to respond to local community needs, whether that's improving literacy levels, language services, tackling poverty or lobbying for green initiatives. Social enterprise services can be transformative to peoples lives and can be more agile and reactive in comparison to larger companies or government schemes.
Social enterprises also provide employment opportunities. According to Social Enterprise UK, 41% of social enterprises created jobs in the past 12 months compared to 22% of SMEs. 59% of social enterprises employ at least one person who is disadvantaged in the labour market. For 16%, this group accounts for at least half of all employees. Social enterprises tend to have more diverse leadership: 40% are led by women, 31% have Black Asian Minority Ethnic directors and 40% have a director with a disability. They are also known for paying fairly. The average pay ratio between the CEO and the lowest-paid worker is just 3.6:1. Comparatively, this stands at 150:1 for FTSE 100 CEOs.
How might the landscape of social enterprises look in the future?
I think that social enterprise is a growing sector as more people are identifying social problems or needs and wanting to solve them. Social enterprises provide a great vehicle to do this.
Aside from a great deal of uncertainty, I'm unsure what the specific projected impact of Brexit will have on social enterprises specifically. The social business market has grown to be worth 26 billion and many social enterprises are actually at the forefront of economic recovery, with more growing their turnover in the past 12 months compared to their mainstream SME counterparts.
In terms of the employment market, people are increasingly desiring jobs with purpose. The illusion that money = happiness is slowly crumbling and the value of creating businesses which benefit will hopefully continue to rise.
As consumers, we are becoming more conscious of the impact of our purchasing decisions. Social Enterprise UK is running the campaign 'Buy Social' that aims to encourage more people to buy from social enterprises. We have power as individuals to support organisations who are operating a fair supply chain, minimising environmental impact and reinvesting for good. This shouldn't be underestimated.
Seven Game-Changing Social Enterprises
"Crazy about chocolate, serious about people", Tony's Chocolonely is on a mission to make 100% slave-free chocolate the norm. The Dutch confectionery company was started by investigative reporter and television personality Teun van de Keuken after he exposed a group of chocolate manufacturers for breaking the Coca Protocol that aims to end the worst forms of child labour. Its roadmap to slave-free chocolate involves three pillars—create awareness, lead by example and inspire to act.
Chatterbox provides online language learning for professionals and organisations powered by expert refugee talent. It empowers people to reenter the world of work with confidence and self-assertion by providing the tools for them to rebuild a valuable network and achieve professional growth. Over 110 Chatterbox coaches have taught 2,028 hours helping 834 people to learn 12 new languages.
This bakery and cafe based in East London empowers women to reach their potential by offering skills training, paid employment and a supportive community to help socially and economically disadvantaged women. Luminary bakery uses baking as a tool to take women on a journey to employability and entrepreneurship by equipping them with transferable skills and empowering them to build their careers.
Chanua creates services and products that foster healthy connections. It does this by solving organisational challenges using research, technology, games, psychology, data and good design while keeping people at the heart of everything it does. Projects range from "Hacking Health North West"—which brings the tech community together with clinicians, patient and service users, researchers and entrepreneurs to develop solutions to real-world health care challenges—to "Talk and Teleport" —a workplace wellbeing intervention, which uses facilitated immersive technology to improve mood and reduce stress levels in a workplace environment.
The Big issue is on a mission to dismantle poverty by creating opportunity through self-help, social trading and business solutions. The Big Issue magazine launched in 1991, in response to the growing number of rough sleepers on the streets of London, offering people the opportunity to earn a legitimate income through selling a magazine to the public. Twenty-five years on, Big Issue vendors come from a variety of backgrounds and face a myriad of problems associated with poverty and inequality. In 2016, they sold their 200 millionth copy.
When premium hospitality is combined with a desire to help the local community, you get Good Hotel—a floating hotel currently docked on a London waterfront. Guests have the opportunity to "stay good, do good", with locally-sourced food ingredients, materials and labour offering a programme to give long-term unemployed locals unique hospitality training and a chance to re-integrate into the economy. For every booking made on the Good Hotel website, £5 per night is donated to NGO Niños de Guatemala.
The Centre for Youth Impact is committed to working collaboratively to progress thinking and practice in impact measurement in youth work and provision for young people. Its vision is for all young people to have access to high-quality programmes and services that improve their life chances. The enterprise aims to work in collaboration with others to test, learn and build momentum behind the impact agenda, across organisations working with young people.