Graduate Job
Trainee Chartered Accountant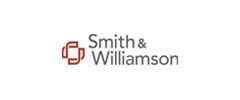 Salary:

Competitive + benefits

Deadline:

CLOSED

Length of Programme:

3 Years

Entry Requirements:

Minimum 2:1 degree, 300 UCAS points across top 3 A-Levels

Qualification Gained:

Professional Qualification
Bristol
Cheltenham
Guilford
London
Salisbury and Southampton
At Smith & Williamson we recruit high calibre people with the skills, knowledge and commitment to meet the demands of the business. The graduate programme is a structured training programme combining practical experience with technical studies, as well as providing numerous opportunities to increase your skill set with internal courses ranging from personal impact and negotiation skills to time management to delivering presentations.
What will I be doing?
Many businesses need to reassure investors and other stakeholders on their financial performance, even where a full audit isn't necessary, appropriate, or required by law. We provide wide-reaching financial advisory services to international clients across a number of industries and a diverse client base, ranging from small businesses and family enterprise start-ups to non-profit organisations.
As part of our Assurance & Business Services team you could be working directly with managing and financial directors, checking that numbers stack up with fact. This means providing advice and solutions that really make a difference.
Many of our audits last just one or two weeks, which means you'll quickly gain exposure to a variety of businesses. You'll also build valuable client experience, developing the knowledge and skills needed to be an effective auditor and trusted business adviser. Alongside your work, you'll receive first-class professional training as you study for the Associate Chartered Accountant (ACA) qualification, which will enable you to gain a full understanding of the technical aspects of audit and accountancy and additional financial advisory services.
Responsibilities of the Trainee Chartered Accountant position could include:
Work as part of a team to undertake a variety of audit and accountancy tasks
Develop an understanding of our client's and their businesses
Complete audit programmes and form conclusions on each individual test and section completed
Understand from your manager the scope of tasks allocated and objectives to be achieved
Keep seniors and managers fully informed of any issues and problems, ensure work is completed to a level agreed with the manager and record clearly and concisely work done
Become familiar with our audit and accounting software
Resolve queries whether of an audit or accountancy nature
Prioritising tasks whilst monitoring time against budget
What training and development will I receive in my first few years?
Progression within this team is fast, with responsibility from an early stage. By the second year you'll be taking on a more senior role with smaller clients and helping to supervise the new intake of trainees and as your experience grows, you may have opportunities to experience other assignments such as control reviews and due diligence projects.
To be successful in this role you will:
Be committed and motivated to studying towards the Associate Chartered Accountant (ACA) qualification
Be able to deliver first class client service and work effectively as part of a team
Demonstrate an ability to communicate clearly both verbally and in writing
Have a high level of general commercial awareness
Application process
Stage 1 – complete our online application form
Stage 2 – online verbal and numerical reasoning test
Stage 3 – assessment morning
Stage 4 – first round interview
Stage 5 – final round interview
Applications are currently open and we recruit on a rolling basis; APPLY NOW to avoid disappointment.