Storengy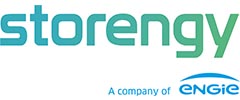 Apply toStorengy:
Overview
An ENGIE subsidiary, Storengy is a European leader in underground natural gas storage facilities. We have been designing, developing, and operating storage facilities for 70 years and provide our customers with innovative solutions based on our extensive experience of different markets and environments.
Storengy has globally acknowledged expertise and a long track-record of marketing storage facilities in France, Germany and the UK. Today, we bring all this expertise to our global partners and customers in China, Brazil, Turkey, Chile, Mexico and elsewhere in the world.
We encourage an industrial partnership framework across a wide range of projects.
Storengy's accomplishments over the years testify to its ability to rise to a challenge, providing our customers with gas storage solutions that best meet their needs and supporting energy transitions by developing geothermal power and renewable energy sources such as hydrogen and biomethane. These challenges have honed our experience and our expertise. They have sustained our growth, first in France, then in Europe and the rest of the world.
This is a rare opportunity to work for a wonderful organisation in the heart of Cheshire, within a small high-performing Business Development and Project team. The Stublach Site is the largest natural gas storage asset in the UK and Storengy has large expansion ambitions in new business areas; biogas, hydrogen, and geothermal. Storengy UK are looking for a BD analyst all-rounder with a background in chemical engineering or agricultural sector to support the develop and assess biogas opportunities.
Work environment
You will join our UK entity in the New Business Development team and report to the Biogas Business Developer.
The main mission is to develop the local business aligned with the UK biogas strategy of the Business Line Networks. You will develop and assess projects to support the growth of Storengy in the Biomethane to Grid market.
You will be part of a dynamic, and highly motivated and take a key role in achieving our ambition to boost our zero carbon and diversification strategy.
This position is also a great opportunity for you to develop personal skills and to boost your career.
You will be based in our office in Northwich.
Graduate Jobs
Internships & Placements
Apprenticeships
School Leaver Programmes
Sponsored Degrees
Coming soon...
Salary & Benefits
Requirements
Apply