National Audit Office (NAO)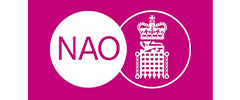 Apply toNational Audit Office (NAO):
Overview
Our position is unique, and our work is highly influential. Totally and distinctively independent, we scrutinise public spending for Parliament, and investigate major government projects and programmes. This means we work for, and for the good of, everyone in the country. We help our economy and society work better- supporting and enabling improvements in the way services are delivered right across the public sector to all citizens. Our people have a great reputation among our clients, Parliament, other international audit institutions and the wider accountancy profession.
For you, this means challenging and varied work that makes a visible impact and has real value for the nation. And you'll do it whilst studying towards a fully funded ACA qualification and earning a great salary.
If you're looking for a career where you can make a difference, the National Audit Office is for you.
Internships & Placements
N/A
Apprenticeships
National Audit Office offer a NAO Accountancy Apprenticeship. Click 'View Jobs' to find out more.
School Leaver Programmes
Click 'view jobs.'
Sponsored Degrees
Coming soon...
Salary & Benefits
Locations and starting salaries: London: £24,450 p.a. / Newcastle: £18,766 p.a.
Requirements
120 UCAS points from 3 A 'Levels in any subjects (General Studies does not count), and no degree