Mercer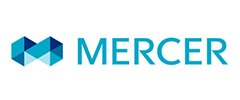 Apply toMercer:
Overview
Mercer was originally set-up in 1937 as the employee benefits department of Marsh & McLennan Inc., in the US. The company acquired William M Mercer Limited in 1959 and the name of the company was changed to Mercer Human Resource Consulting and then simply, Mercer in 2002 and 2007, respectively.
Across the globe, Mercer operates in over 40 countries, employing more than 19,000 people in Asia, Europe, the Middle East and Africa, Asia-Pacific and the Americas. In the UK, Mercer has offices in Aberdeen, Belfast, Birmingham, Bristol, Croydon, Chichester, Edinburgh, Glasgow, Leatherhead, Leeds, Liverpool, London, Manchester, Solihull and Windsor.
Graduate Jobs
The Graduate Development Programme (GDP) is conducted over a period of 18 months after each trainee has spent a brief acclimatisation at their respective home offices. During this period, trainees are paired up with a buddy, who introduces them to the rest of the team and explains the general work and administration procedures. Trainees also complete mandatory online courses in KYC, money-laundering, compliance and health and safety.
The second week is covered by an offsite induction programme, during which trainees' network with other trainees and senior management professionals from the company. Trainees are also assigned a project which is presented at the end of the programme, to other trainees and a member of the executive team.
The GDP is a mix of on-the-job training and three offsite training modules, comprised of:
Consulting in general across different businesses and industrial sectors
Consultant role in building effective client and business relationships and essential skills required by a consultant
Client relationships and how to build and sustain them over the long-term; building a profitable consultancy business and understanding client expectations and requirements through a series of role plays
Graduate trainees also study for relevant professional qualifications, based upon the business group and role assigned. Reward Analysts study for the Chartered Institute of Personnel and Development (CIPD) credential and complete a Masters in Human Resource Management.
Trainees in the Investment Consulting group complete the Investment Management Certificate (IMC) and then choose between Actuarial or Chartered Financial Analysis (CFA) credentials. Trainee Pension Consultants and Benefits Trainees study for the Advanced Diploma in Retirement Provision, administered by the Pensions Management Institute (PMI).
Actuarial and Retirement Analyst Trainees study for Actuarial qualifications. Each trainee is also assigned a Performance Advisor, who sets performance and learning objectives for the trainee, reviewed every six months. Other in-house training, which continues during and after the initial training period, includes technical, business and specialist tools and skills training.
Internships & Placements
Mercer conducts eight week summer internship programmes in Investment Consulting and RRF and a 15-month industrial training programme in the Belfast Retirement Service Centre. The latter programme begins in June and the summer programmes in July.
Apprenticeships
There are no apprenticeship opportunities at Mercer.
School Leaver Programmes
Sponsored Degrees
Coming soon...
Salary & Benefits
All Mercer employees receive a competitive salary reviewed yearly, with bonus payments and increments based on company and individual performance. The overall benefits package consists of core and flexible benefits.
Graduate employee benefits include pension schemes, 23-day annual vacations with an option to buy five more days, income protection, special recognition awards, private medical insurance, cycle2work schemes, and discounted products such as travel, insurance and retail product vouchers.
Requirements
The internship and industrial training programmes are open to students in their penultimate year of degree study. The minimum academic requirements for graduate and internship programmes are listed below.
Minimum of 300 UCAS points
Grade 'B' or above in A-level Mathematics
An earned or anticipated 2:1 degree or higher in any quantitative or business-related discipline
Strong interest in the financial services industry, strong communication and interpersonal skills, critical and creative thinking, and high levels of motivation and self-initiative.
Ranking
Mercer did not take part in this year's rankings and awards, but please stay tuned for any information from future rankings.
Apply
Graduates and students interested in applying for Mercer programmes should complete the online form and attach their latest CV. Candidates must choose a specific role and location and click on the 'Apply Now' link provided against each vacancy. Application forms for graduate and internship programmes will be accepted from mid-September and are reviewed as and when they are received.
The selection process includes a 20-minute telephonic interview with a member of the recruitment team; an assessment centre which incorporates written exercises, group discussion on a business case; an individual presentation and interviews with the respective business division personnel. Candidates may also need to complete online testing of their numerical and verbal reasoning aptitude, before or as part of the assessment centre. Graduate positions start in September and internship programmes in early July.
The graduate recruitment team can be contacted at 0207 178 7192 or by using the contact form in the 'Contact Us' section here.