APR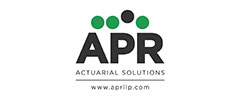 Apply toAPR:
Overview
APR provides high-quality technical, data-driven and modelling solutions to clients in the financial sector. These solutions take the form of:
Consulting projects, where we use our skills and expertise to address a variety of client needs, primarily from our own offices.
Seconding our staff to clients, where we work directly in client teams and their offices for a period of time to provide support on a wide range of projects.
Technical training services, where we pass on our in-depth knowledge of key regulations, software and actuarial concepts to our clients.
Each year we supplement our successful, growing team with some of the brightest, numerate school-leavers, to whom we provide our comprehensive and ongoing programme of training, and a broad range of client projects. This makes for an exciting and varied career for our analysts, who enjoy the combination of early responsibility and exposure to a wide spectrum of actuarial work. The result is an outstanding team of well-rounded, high-calibre consultants, who have been central to our becoming a trusted partner providing exceptional value to our growing portfolio of clients. As an expanding, but still relatively small company, PR has a dynamic, unfussy and inclusive culture, with a strong focus on being open with, and supportive of, our staff. We also place great emphasis on quality and training, and you will have the chance to work with lots of highly talented individuals.
Graduate Jobs
Internships & Placements
Apprenticeships
APR are not offering apprenticeships.
School Leaver Programmes
Our Actuarial Analyst role is ideal for school leavers looking to "earn while you learn". This three-year programme is designed to give you a great foundation to your career, building skills in areas that are considered to be in high demand in future, including finance, data analysis, coding and modelling.
To get you started, we'll put you through several weeks of hands-on induction training, learning the key software programs, coding languages and technical skills, as well as industry knowledge you need to succeed.
After this initial training period, you'll start to gain valuable experience working on a wide range of different projects for our clients, which include some of the largest insurance companies in the UK. You'll also have the opportunity to be involved in some in-house work helping to develop our growing business.
Alongside this, you'll work towards the Certified Actuarial Analyst (CAA) qualification. We'll provide you with the necessary study materials and study days. As well as being a highly transferable and valuable qualification in its own right, the CAA qualification can be used as a stepping stone towards becoming a fully-qualified actuary, meaning that choosing this route over university won't curtail your career ambitions if that is your ultimate goal.
Sponsored Degrees
Coming soon...
Salary & Benefits
This is an opportunity to 'earn while you learn'. With a generous starting salary (£21 - 25,000) plus bonus, and future increases based on experience and performance, the analyst role is a great chance to work towards a meaningful qualification without accumulating student debt! APR will fully support you through the whole CAA qualification, both financially and with high-quality training. You will also be provided with a mentor who you can turn to for day-to-day support and who will look after your ongoing development and future career plans.
Requirements
Applicants should be highly numerate and analytical, with good communication skills, and be enthusiastic to learn.
For our Actuarial Analyst role, we are looking for candidates with (or predicted to achieve) the following minimum level of academic qualifications (or equivalents): • 128 UCAS points (equivalent to ABB at A-Level). • Grade A at A-level in a Maths-related subject. • Grade 7 at GCSE in English Language.
However, we are willing to consider applications that don't quite meet this standard where there are extenuating circumstances – please make this clear when submitting your application.
Apply
We welcome applications from school leavers to start in our September intake; we are also happy to take applications from students who have completed year 1 of A-levels (or equivalent), looking towards a September 2021 start date. To apply for the apprenticeship scheme, please provide a copy of your CV and a covering letter, either via our website (https://aprllp.com/working-for-apr/actuarial-analyst/actuarial-analyst-apply-now/) or sent to recruitment@aprllp.com. We expect the covering letter of successful candidates to demonstrate a genuine appetite for working towards a professional qualification, a desire to excel in a mathematically challenging and technically demanding role, and a clear sense of why you think APR is a good match for your abilities and ambitions; applications without a covering letter touching on these areas are likely to be rejected. Successful candidates will be pro-active, well-rounded individuals, so evidence of non-academic / extra-curricular interests will be beneficial.